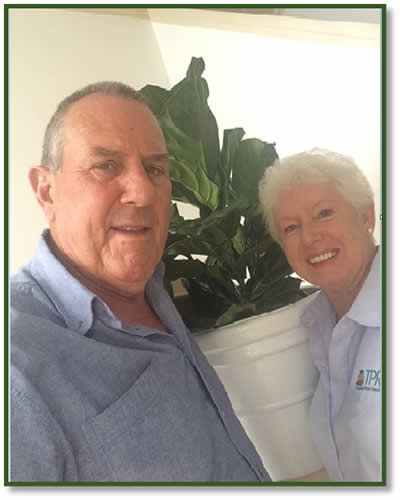 We have spent the last 3 years looking after and servicing indoor office plants with Tropical Plant Rentals.
What areas do you hire indoor plants to?
We service Port Stephens and Newcastle suburbs as Franchisees. As we live locally, we are very familiar with these areas.
What do you enjoy most about your indoor plant hire business?
We love all aspects of our job, although some of the big installations can be physically taxing at times.
With that being said, our favourite part of the job is being able to put a "smile" on our clients face when they see the end result.  Working with indoor plants not only inspires us, but allows for us to make a statement in our client's workplace. We get to meet some lovely people too.
What's your favourite desk plant to hire for offices and why?
Sue says her favourite desk plant is the Zanzibar Gem as it appeals to her feminine side with it's delicate green foliage.
What's your favourite office floor plant to hire and why?
Bruce says his favourite floor plant is the Dracaena, Janet Craig with its lush green leaves. It's a great air purifier and makes a statement in any area.
What's your best tip for keeping your Indoor Office Plants looking their best?
Don't be tempted to overwater indoor plants, let the plant dry out in between watering, so that its roots can breathe!