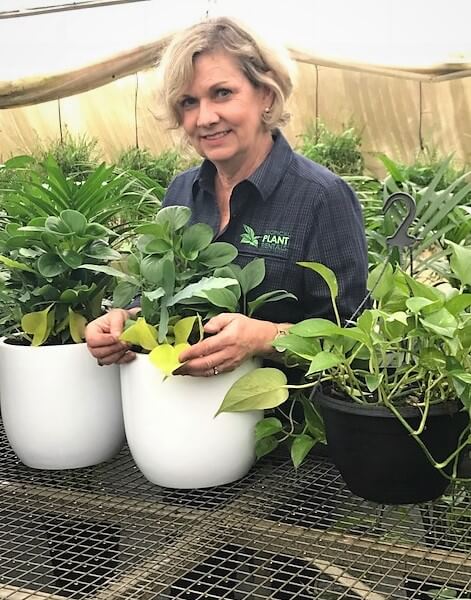 I started with Tropical Plant Rentals in 1997, so have been part of their indoor plant hire team for over 22 years.
What areas and suburbs do you look after for your indoor plant hire?
Throughout Sydney, North Shore and Northern Beaches.
What suburbs do you currently have plant hire clients?
Artarmon, Belrose, Brookvale, Chatswood, Davidson, Dee Why, Flemington, Forestville, Frenchs Forest, Glebe, Gordon, Homebush, Killara, Kirribilli, Lindfield, Manly, Millers Point, Neutral Bay, North Ryde, North Sydney, Pymble, Pyrmont, Rhodes, Roseville, St Ives, St Leonards, Surry Hills, Sydney, Turramurra, Ultimo, Waterloo
What do you enjoy most about your indoor plant hire business?
I really enjoy caring for the plants and watching them flourish.  It brings a lot of joy to my plant hire clients and their offices.  I've also met so many lovely people across the offices that I hire plants to.
What's your favourite desk plant to hire for offices and why?
I really like to use the Mixed Garden for my plant hire desk plants.  I pot them up myself using a variety of 4 plants.  I find I can add a lot of texture and colour to the one desk plant.
What's your favourite office floor plant to hire and why?
Pothos Totem –  Devil's Ivy
I love using this plant as it is a "Clean Air Machine."  With its broad leaf providing a large surface area, it is one of the best plants to use for removing Volatile Organic Compounds from the air in an office environment. It's beautiful colour variegation always ensures this plant gives a fresh and clean feel to many of my office plant hire clients.
What's your best tip for keeping your Indoor Office Plants looking their best?

Understanding the light and water balance is so important for office plant hire.  Ensuring the correct plant selection for the office lighting is crucial and ensures we can keep the hire plants looking their best in any office.
Other things I do in my spare time.
I really enjoy gardening at the farm, reading and jig saw puzzles.