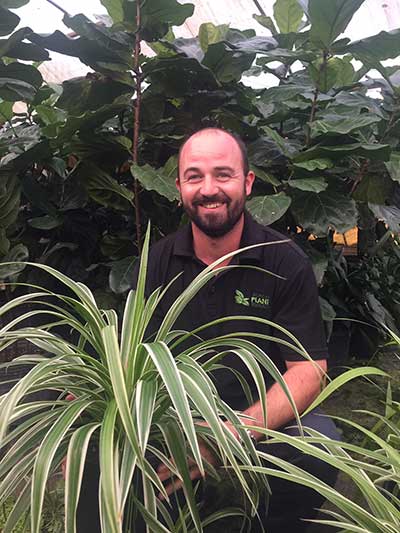 Our newest member, Michael has very recently joined the Tropical Plant Rentals Team and we'd like to tell you a bit about him.
What areas and suburbs do you look after for your indoor plant hire?
I currently look after the Melbourne CBD and around the Melbourne suburbs.
What do you enjoy most about your indoor plant hire business?

Because I enjoy meeting new people, one aspect of this job that I thoroughly enjoy is the vast opportunity of meeting with clients and building relationships.
What's your favourite desk plant to hire for offices and why?
My favourite desk plant is the classic Spider Plant. It's made a huge comeback and is a healthy air cleaning plant. It's very versatile and looks great on a desk. It also looks amazing in a hanging basket.
What's your favourite office floor plant to hire and why?
The Rhapis Palm would have to be my favourite floor plant. Its modern form makes it a stylish piece of art.
What's your best tip for keeping your Indoor Office Plants looking their best?

If you want your indoor plants to look their ultimate best, my advice would be to get the professionals to take care of them. Trained plant technicians have experience and a good understanding of specific light and water balance for each species.
Other things I do in my spare time.
When I'm not taking care of my indoor plant hire services, I enjoy all aspects of watching and playing football (soccer). I thoroughly enjoy the wining and dining culture of the beautiful cafes and restaurants in Melbourne.