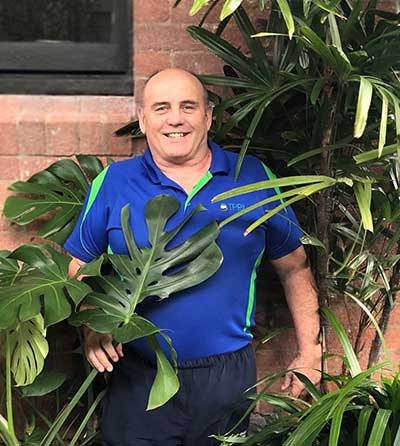 Introducing Lance, a member of the Tropical Plant Rentals Brisbane team.
Lance is centrally located, living in the heart of Brisbane and has been part of the Tropical Plant Rentals family for the past 18 years.
Lance has gathered a wealth of knowledge on all things "office plant hire" throughout that time.
From design to installation to maintenance, Lance takes care of if throughout our Brisbane Plant Hire Offices.
What Areas and suburbs do you look after for your indoor plant hire?
I have clients throughout all areas of Brisbane, the majority of my plant hire is in the Brisbane CBD.
What do you enjoy most about your indoor plant hire business?
I love the variety that my role has. Whether it is quoting for plant hire, sourcing healthy plants and good quality pots or providing maintenance to my plants on hire.
My week has so much variety. It has certainly kept me on my toes for the past 18 years.
What's your favourite desk plant to hire for offices and why?
My favourite desk plant is the Zanzibar Gem. It always look healthy and so shiny.
They require little watering. You just need to make sure they are trimmed before they get too lanky.
What's your favourite office floor plant to hire and why?
My favourite floor plant is the Bamboo Palm. It is a great air purifying plant and the dark green foliage looks impressive. Showcased in a stylish pot the Bamboo Palm can really look spectacular in an office area.
What's your best tip for keeping your Indoor Office Plants looking their best?
Be sure to choose the best plant selection for the location. It is so important to have the lighting level correct for most plants.
That also determines the amount of water it will require. Lower light requires lower watering.
Other things I do in my spare time
I'm a keen water polo enthusiast. Actually my whole family is involved in Water Polo – from competing to umpiring and coaching.
I have played Water Polo at local, State and National Levels. I competed at the World FINA Men's Masters Tournament where we won the Gold Medal.
I am currently in training for our next Tournament in August, hopefully we can win back to back Gold Medals.
I also enjoy quality time with my family. I have been known to have the odd punt or two (but don't tell my wife!).