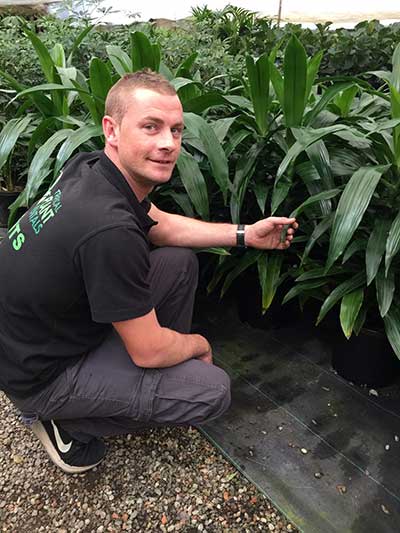 I've been a team member at Tropical Plant Rentals for the past 12 months. I have however been helping the team for the past 25 years.
What areas do you hire indoor plants to?
I service Wollongong and South Western areas of Sydney. Although the majority of my client's are in the Macarthur region, I also service hire plants for clients in Parramatta, St Leonards, Chatswood and the Sydney CBD.
What do you enjoy most about your indoor plant hire business?
I enjoy the process involved with the installation of Green Walls. Green Walls provide such a huge positive impact to an area. After completion, the final result is an amazing display of fresh, living foliage. You can't beat it.
What's your favourite Desk Plant and why?
My favourite desk plant is the Lemon & Lime Peperomia. It has thick glossy, rounded leaves and grows well indoors.
What's your favourite Floor Plant and why?
My favourite floor plant is the Ficus Lyrata, also known as the Fiddle Leaf Fig. Its leaves are large and sculptured and it makes a big statement to any indoor area.
Best tip for looking after indoor plants?
Don't overwater. Less is more for their survival.
What are your other areas of expertise?
I've been in the landscaping industry for 18 years. Working on a variety of outdoor projects and during this time I've gained the skills and experience I have now.
What other things do you do in your spare time?
Being a Dad to my two angels and hanging out at the family farm.