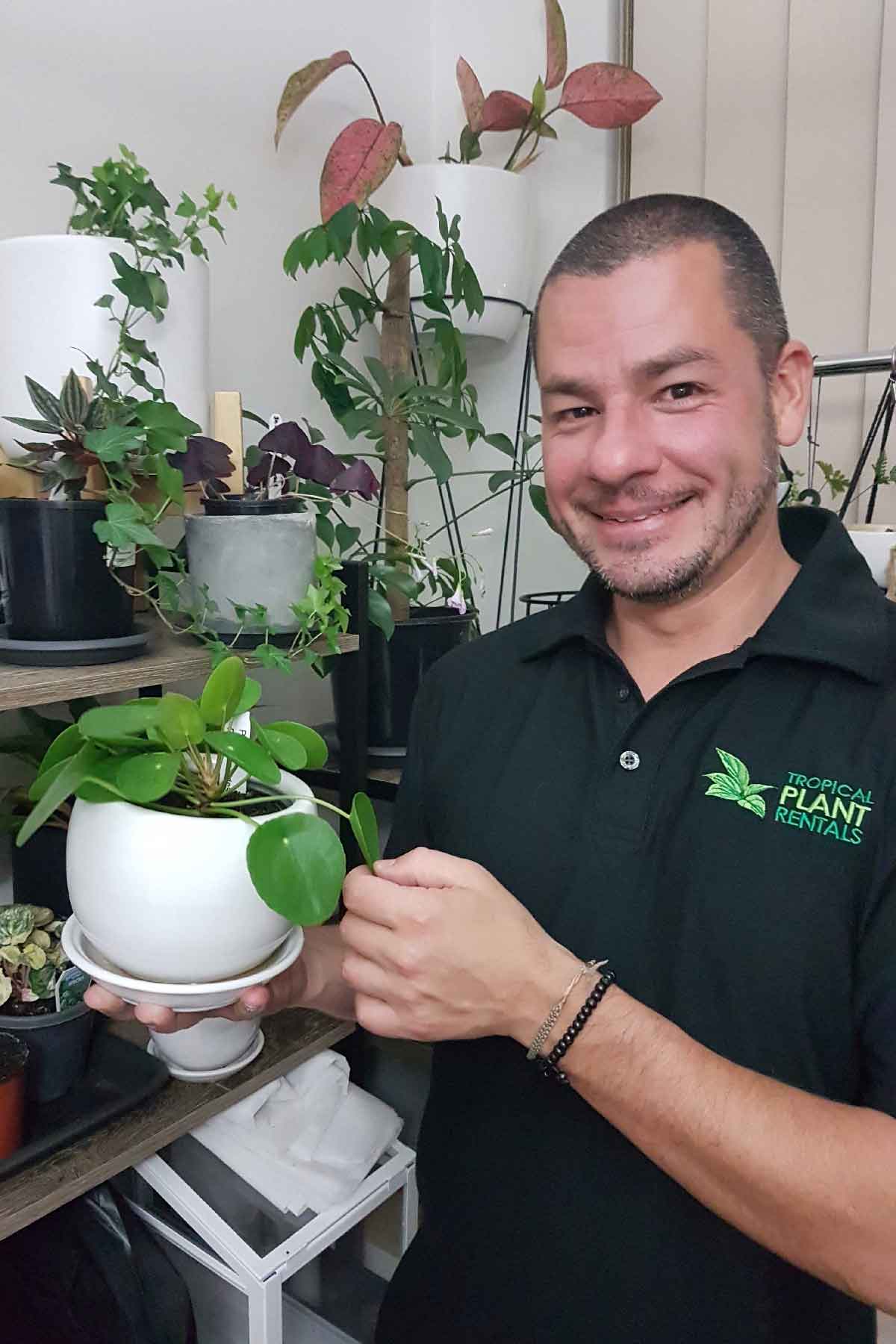 What areas do you hire indoor plants to?
Being a Sydney boy, I know most areas fairly well. My current clients are within Strathfield council and its surrounding suburbs like Rhodes, Newington, Homebush, Burwood, Concord, Sydney Olympic Park and spreading out to Leichhardt, Sydney CBD, Chatswood and Parramatta.
Favourite part of your job?
PLANTS….. I don't care if they are indoors in a pot, outdoors in a planter box, hanging off the ceiling or on a green wall, I'll figure out a way to water them and make sure they look their best.
Favourite desk plant and why?
The Pilea Peperomia would have to be my favourite plant for a desk. Really easy indoor to care for and doesn't drink a lot. The leaves are like little satellite dishes calling out of space.
Favourite floor plant and why?
At home I don't have a bedside table, I have a Howea Fosteriana (Kentia Palm). Nothing beats waking up on a tropical island and if I can't wake up on an island, I may as well pretend I'm there. This palm brings me happy memories.
Best tip for looking after indoor plants?
NO coffee, NO tea and NO cigarettes.
Just water in moderation. But do feel free to offer me a coffee instead, happy to talk about indoor plants with you all afternoon.
Your background?
After spending 17 years behind a computer doing architectural drafting, visualisation and animation, as well as managing an online apparel store, I finally made the leap to plants and got myself a certificate in Horticulture. I have been lucky enough to finally pursue my interest of plants. I believe all those years involved in the architectural world have given me the ability to understand the significance indoor plants have on the environment, interior design and decoration, not only to the space, but also the people who spend their time inside it.
What do you do when not working with plants?
When I'm not at work I'm either watering my plants at home, of which I have been told I have too many. Or I can be found kitesurfing, mountain biking or rock climbing; basically, any activity that gets me outdoors and into fresh air.