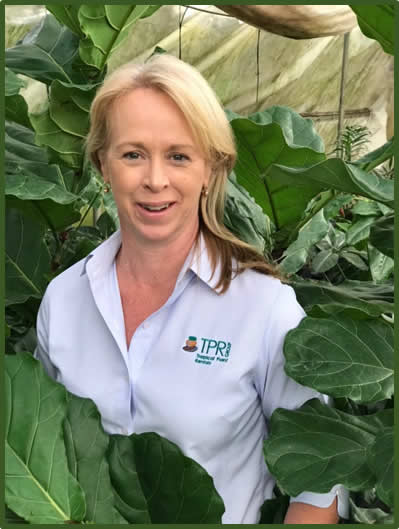 I've been part of the Tropical Plant Rentals team for over 12 years.
What areas do you hire indoor plants to?
I service client's office plants in the Parramatta Business District area and Parramatta areas including North Parramatta, Northmead, Westmead, Wentworthville, Toongabbie, Greystanes, Seven Hills and Castle Hill. I grew up in Parramatta, so the area is very familiar to me. It's a great area that I enjoy servicing and I'm able to park the car and walk between clients offices.
What do you enjoy most about your indoor plant hire business?

I really love the styling side of my job, it's always nice to find the perfect plant and add the final touches to a lovely well presented office. I also enjoy visiting my lovely clients of course.
What's your favourite desk plant to hire for offices and why?
My favourite desk plant is the coloured Aglaonema as they're an amazing looking plant and can cope with most lighting situations and don't require a lot of water.
What's your favourite office floor plant to hire and why?
When it comes to floor plants, the Ficus Lyrata has been my favourite for a while. Also known as the Fiddle Leaf Fig because of its large fiddle shaped leaves. The large leaves really create an impact in an office environment, giving the WOW factor.
I have one particular Ficus Lyrata in a client's office that looks so incredible, it inspires me to use them more often.
What's your best tip for keeping your Indoor Office Plants looking their best?

My best tip for looking after an indoor plant is not to be afraid to trim the plant when it starts to get too big. Trimming promotes new growth and keeps the plant looking great.