Vertical gardens are not a new concept. Traditionally, they have been used in commercial settings – large office spaces, foyer areas and large retailers. However, vertical gardens are no longer restricted to office and shop spaces. Vertical gardens are now an achievable option in the residential environment too.
Vertical gardens can provide a connection to nature for homeowners with a small outdoor space. Many people choose to sacrifice space for the ultimate location. Outdoor space within the home may consist of a small terrace or courtyard. Space saving solutions often focus on the bathroom, bedroom and kitchen. However, space saving solutions can be used in the outdoor living space too. Vertical gardens are the new "must have" feature for every well designed residential courtyard or terrace.
For many inner city dwellers, it is not just space which is limited. Time is also limited! Busy professional couples and young inner city families generally don't have time for garden maintenance. A vertical garden where installation is taken care of is a great solution! All you need to do is come home after a hard day, sit back, relax and enjoy your beautiful green space.
Vertical gardens in residential settings are definitely on-trend. In 2015, popular reality renovation show The Block Triple Threat, featured many varied vertical gardens.
Block contestants Josh and Charlotte created an enormous terrace wall with several small vertical gardens. Their wall received excellent reviews from The Block judges. It featured recycled timber and tetris-style greenery. Each piece was highlighted with modern wall mounted lamps. Their vertical gardens offer new and exciting inspiration for home renovators. This concept could be used both indoors and outdoors in a home.
Block contestants Ayden and Jess also used a vertical garden in their courtyard. Their design was simple but bold. They used a solid wall of green plants featuring an old Melbourne Cricket Ground Gate as a heritage feature piece. Their vertical garden would work well in any inner city apartment.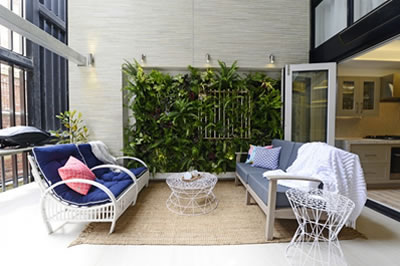 Block contestants Tim and Anastasia used a mixture of plants in their courtyard. Their vertical garden was framed with decorative metal panels on a background of wooden panelling. Their design provides inspiration for homeowners looking to create a beautiful and achievable feature piece in a small outdoor entertaining space.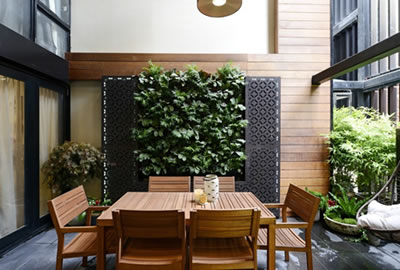 So, whether you have an inner city apartment, a terrace house or a suburban townhouse, installing a vertical garden in your terrace or courtyard is sure to enhance your outdoor living space. Vertical gardens are a simple way to bring nature to urban spaces.
Every residential courtyard and terrace deserves a vertical garden! It is the perfect space saving solution for the nature lover. So what are you waiting for? Call Tropical Plant Rentals today to discover the possibilities.