Living Green Walls
At Tropical Plant Rentals we don't just hire indoor plants for your office.  We also create incredible living Green Walls.  Green Walls create an instant WOW factor.
Five years ago, we visited Canada, USA and China to research the different models and their effectiveness and maintainability.  We have a range of living green wall options available. We can design and install a green wall to suit almost any request.
Our range includes GSky Versa Walls, Pot Plant Vertical Garden Walls, freestanding Cabinet Green Walls and our own TPR External Green Wall System. There are also specific custom build options.
The Green Wall team at Tropical Plant Rentals are well experienced to create a living masterpiece for you.  We work with you every step of the way.  Design, Construction, Planting and ongoing maintenance.  We can do it all.  We want to ensure your green design goals are achieved.  Our finished product will wow everyone.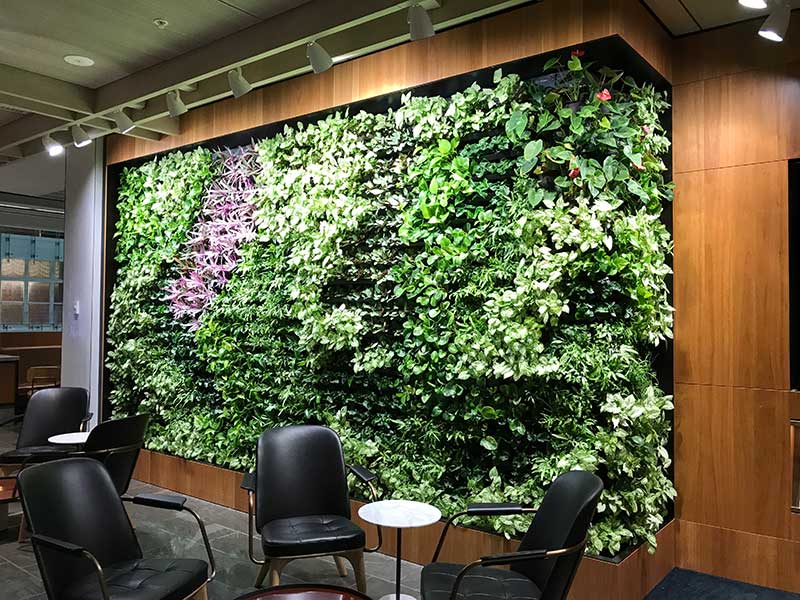 GSky Versa Wall
This is our premium Green Wall system.  It has small pot plants (100mm) that act like pixels on a television set.   The smaller and more dense the planting, the better the coverage and clearer the visual image.  The computerised watering system runs the water down the back of the pot eliminating splash.  This prevents floors from getting wet (slip hazards).  It also keeps the indoor plants' leaves dry reducing the chance of fungus.
Each plant has access to a small water reservoir. This gives the plant moisture when needed and also reduces water to waste.  Plants can be easily changed in minutes to give the wall a new green design or pattern in a short period of time.
Notable clients – Sydney Royal Botanic Gardens, Chatswood West Elm, Sydney Challenger Finance, Lendlease Chatswood.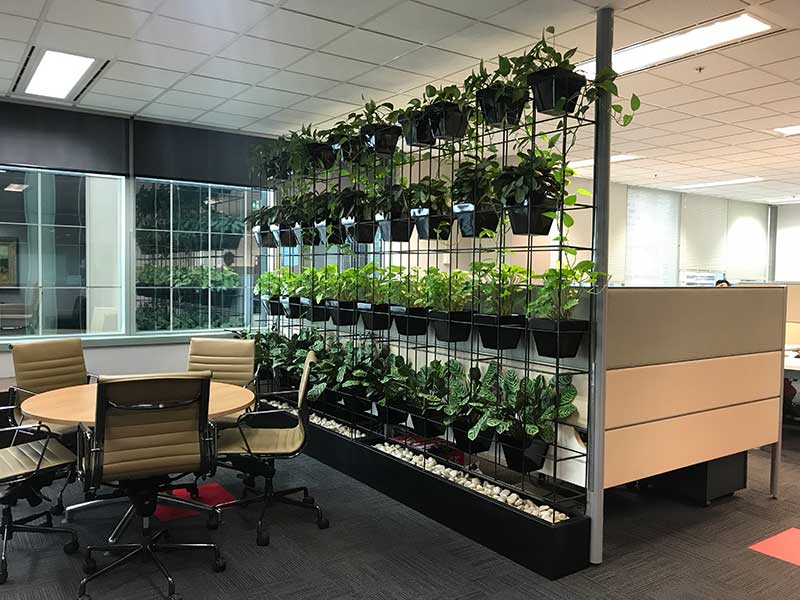 Pot Plant Vertical Garden Wall
Pot Plant Vertical Garden Walls are indoor plant structures, designed to create a beautiful lush green plant partition.  They reduce noise, clean the air and have a fantastic visual impact.  They are affordable and can be tailor made to fit almost any situation.  The indoor plant frame and pots can also be coloured to complement any colour pallet.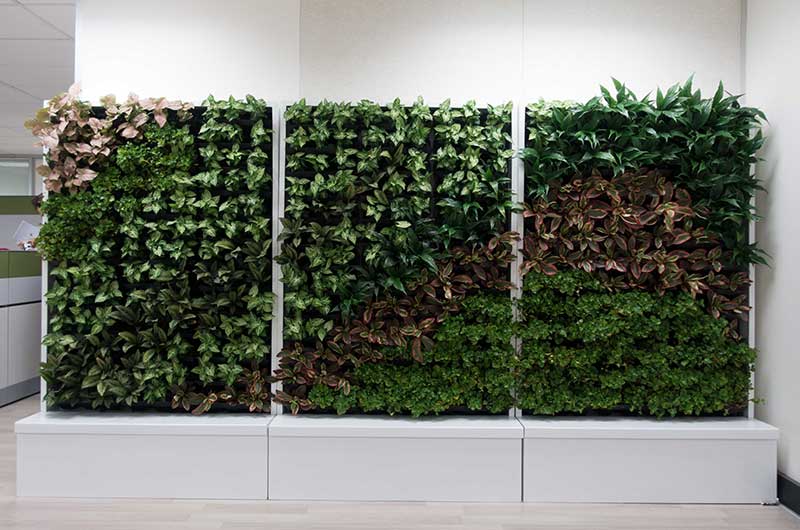 Freestanding Cabinet Green Wall
These Green Walls are freestanding cabinets with the ability to be moved around as needed.  At 2 metres tall and 1.2 metres wide, they are an instant stunning display of living green plants.  They are fully self contained with their own water reservoir and can be fitted with their own power system.  Cabinet Green Walls can be placed side by side to green up larger areas.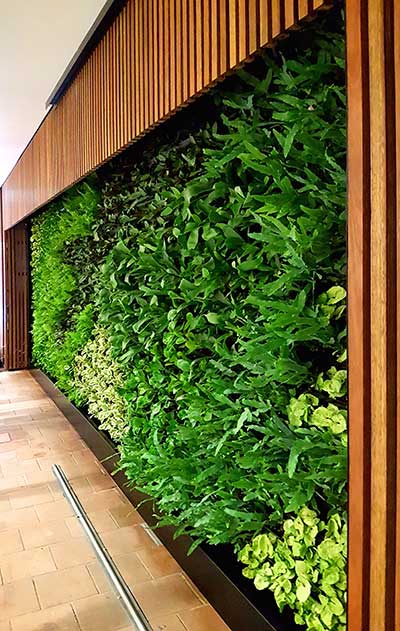 Tropical Plant Rentals' External Green Wall
This External Green Wall system is specifically designed for outdoor use.  They have large water reservoirs for each plant and a wicking system that allows the plants to get through even the hottest days with minimum water usage.  The unit is also inter-linked to stop unauthorised removal.  However the plants can be easily changed if desired.
Custom Build
We can adapt our Green Wall systems to almost any situation with a custom build.  Our experience ensures a thorough process for waterproofing, build, irrigation, lighting, suitable plant selection and appropriate plant maintenance.  Every step is given the detailed attention required.  This allows us to achieve the highest quality outcome for your green wall.  We take great pride in what we do.  Entrust us with the green design for your living Green Wall.
Take a look at our brochure to find the option most suitable for you.
Click here to view our Green Wall Brochure