We all thought Green Walls would be a fad 15 years ago. The concept of plants growing vertically inside on a wall. Then there was the question of watering them and the maintenance they would require. We all thought their fate would be imminent. Instead, they have turned out to be the biggest indoor plant trend we have seen over the past 15 years. Their popularity continues to dominate interior Plantscape designs.
With our love of the great outdoors and our lack of time to get outside, Green Walls fill the biophilic void in our day. Architects and landscape designers recognize this need. Healthy, living Green Walls can incorporate our biophilic needs into their design, not to mention the incredible visual impact they create. Architectural ambition continues to push Green Wall designs to the limit. This is evident in our latest installation. Over 1000 plants were used to create this stunning green wall for this project, using the amazing GSky Green Wall Plant System.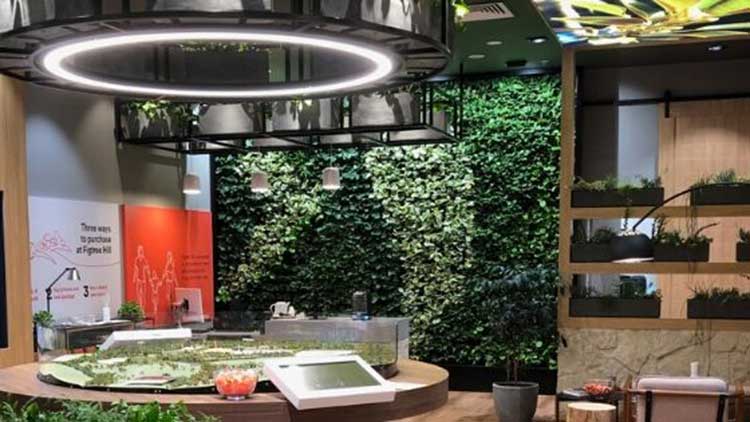 Architects and designers also take into account sound absorption, room dividing and overall ambience for their design. Green Walls continue to dominate and are another artistic medium for architects to showcase their ambitious skills.
We collaborate with architects and designers on all our Green Wall projects. This ensures all lighting requirements for plants are met along with choosing the best plant selections to enable the green wall to thrive.
What Lighting is required for a Green Wall?
It is imperative that every plant in a green wall is well positioned and receiving its daily lighting requirements. This can be achieved with natural lighting or with artificial lighting, ensuring lux levels are met. We don't like our plants to receive a minimum lux level to merely "survive", we want them to "thrive" and achieve their maximum potential to provide the ultimate showcase of plants. Choosing appropriate lighting is crucial to the success and beauty of Green Walls.
How to Choose Plants for a Living Green Wall?
Plant selection is another area we focus on. In choosing plants for a client's Green Wall we take various factors into account.
Selecting plant combinations that complement each other visually;
Choosing plant varieties that meet the client's design brief;
Ensuring plant varieties have similar lighting and water requirements.
With our 15 years of experience in building Green Walls, we are familiar with the varieties that will enhance your Green Wall. Plant selection is paramount for the achievement of a premium Green Wall.
Does my Green Wall need Irrigation?
Irrigation for Green Walls is another component that requires expert attention. Irrigation has come a long way over the past 15 years. Irrigation pumps are used to recycle water in the green wall. Irrigation timers are a convenience method to ensure appropriate watering for each wall. Green Wall watering can be programmed on and off site via an App. With technological advancement, we have seen much innovative design that enhances the watering of Green Walls.
Waterproofing for Green Walls provides the foundation on which the wall is built. It ensures the structure of the building is not affected by leaks or moisture behind or under the wall.
Green Walls are a great way to help achieve a Green Star rating for Indoor Air Quality (IAQ). They enhance Building Green Star rating without forfeiting premium office space unlike floor standing plants. If you need help with Green Star accreditation for your building, we can provide some great solutions.
At Tropical Plant Rentals, we have been a pioneer of Green Wall systems. We are the sole Australian distributor for GSky Plant Systems. The GSky Green Walls are an impressive system and our preferred Green Wall system to install wherever possible. The quality of the components sets it apart. We installed a GSky Plant System Green Wall into The Calyx in Sydney's Royal Botanic Gardens, a total of 306 square metres of Green Wall. The Calyx Green Wall won an international award in 2017.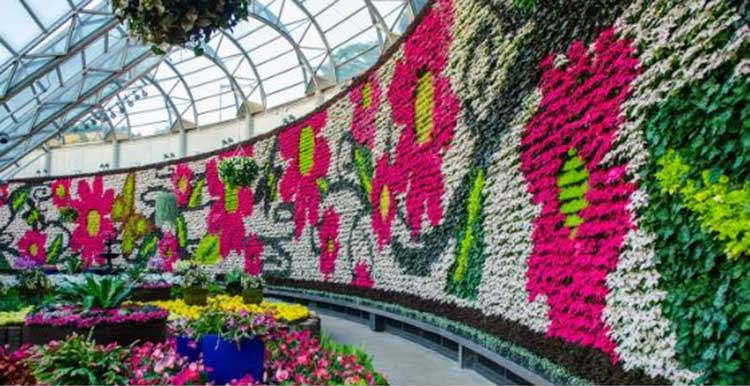 The Atlantis Green Wall is another wall that lends itself to a Green Star Rating, due to its large soil capacity.
We asked our Managing Director Graeme Reid for his advice to anyone looking at installing a Green Wall. "When it comes to Green Walls the best idea is to talk to an expert. Often a few extra dollars spent at the installation of a Green Wall saves you many, many dollars over the life of the Green Wall. Good quality components at every stage of the Green Wall build, will ensure longevity and the best possible results".
The versatility of Green Walls is the future of plantscaping. They are suitable to both indoors and outdoors. If you would like expert advice on installing the most appropriate Green Wall for your upcoming project, contact our friendly team on 1800 631 365 or contact us online.