What a big week it's been across the board here at Tropical Plant Rentals.
Business carried on as usual with our indoor plant hire installations and maintenance of indoor plants and green walls. It's that festive time of the year again, so our Special Events Team have been super busy installing lots of short term plants for functions and special events. Of course, we can't forget the live and living Christmas trees we've been delivering and installing for special orders.
It's hard to beat the pine-sweet aroma a beautiful live and living Christmas tree creates. We generally deliver and install our Christmas tree orders about 3 weeks before Christmas. Usually in early January, we return to collect the Christmas trees and bring them back to our nursery. We will then store, maintain and continue to grow the Christmas spirit ready for your office next Christmas.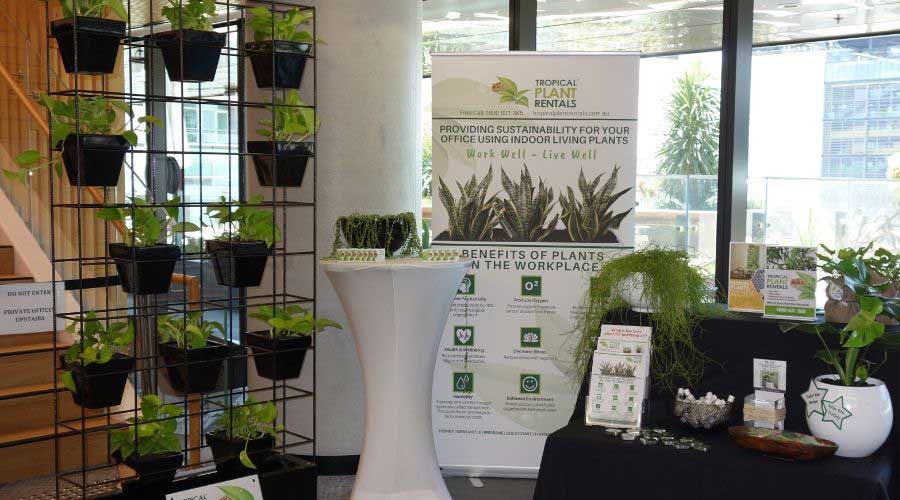 BUSINESS ENVIRONMENT EXPO (BEE)
Tropical Plant Rentals had the privilege of exhibiting and presenting some of our very special products at the 2019 Business Environment Expo. This was held last week at the Parramatta City Campus, Western Sydney University. This spectacular event was organised by the Parramatta Business Chamber to support Western Sydney's business community to improve management of the environmental impact of its operations. With so many informative key speakers from various government and corporate sectors of the community, ideas and knowledge about business sustainability was shared. Information about innovative tools, strategies and solutions around the importance of sustainability in our business community was very valued.
It was great to hear about various sustainable methods, resources and products. Some of these included green building practices, renewable energy, recycling and green building products. Our very own Kylie spoke of the many benefits of plants in the indoor environment. So very inspiring to see so many people in one room, with a vision and a goal of making a positive difference.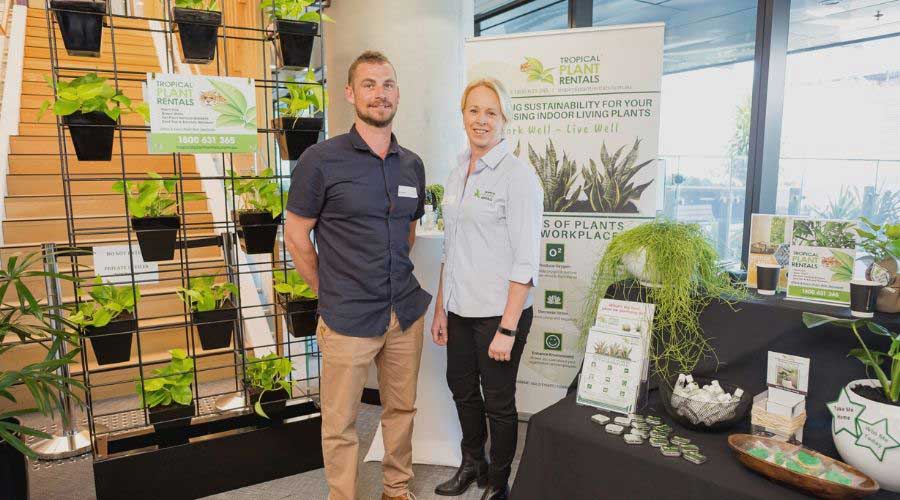 TROPICAL PLANT RENTALS – INDOOR PLANT HIRE DISPLAY
Tropical Plant Rentals showcased a selection of our indoor plant hire range and designer pot hire range at our exhibit stand. We were also able to display a gorgeous Pot Plant Vertical Garden and a stunning Cabinet Wall from our Green Wall range. These Green Walls gained an honorable amount of interest from visitors.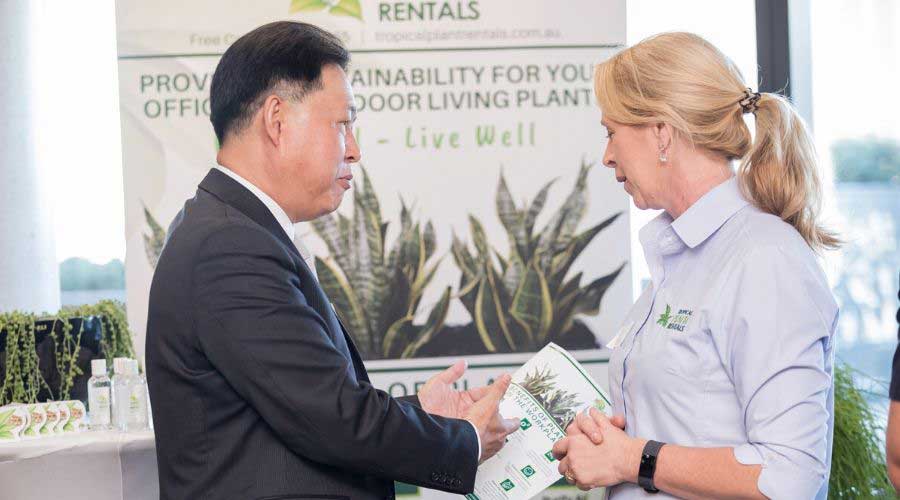 Our indoor plant hire specialist, Kylie took the stage to talk about the important role of indoor plants at work. Kylie spoke about how indoor plants can contribute towards a healthy, sustainable working environment. Kylie explained how indoor plants can enhance the air quality by removing harmful toxins. These toxins are known as Volatile Organic Compounds (VOC's). A few examples of these toxins are formaldehyde, benzene, xylene etc.
These toxins are emitted from everyday items found inside our homes and offices:
carpets
laminates
adhesives
computers
printers
photocopiers
plastics.
This event was an ideal platform to exchange information on how we can all better manage the environmental impact of our operations with regards to energy, resources, material and water.
Tropical Plant Rentals can do our part to help support businesses do this, by providing indoor plant hire and a maintenance program. This can assist businesses in enhancing their working environment as well as reducing their carbon footprint.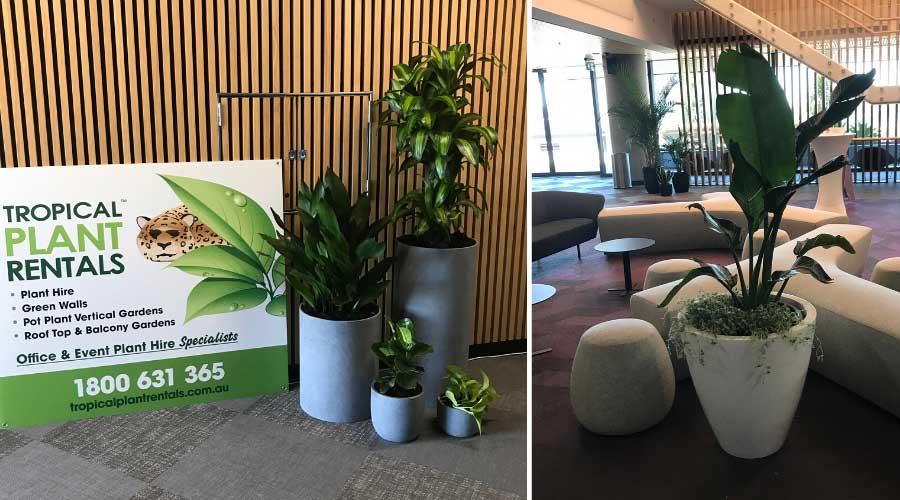 We can all band together and manage the environmental impact of our business organisations. This can achieved by improving the way we manage energy, resources, materials and water.
We can all help to care for our environment by reducing our carbon footprint – very step helps. Our planet will be a healthier place for our future generations.
HOW CAN TROPICAL PLANT RENTALS HELP?
We are a company grounded in nature with a strong focus on our sustainable practices. We are passionate about the environment and how we can contribute to reducing our carbon footprint.
Our entire range of healthy, lush plants, beautiful designer pots and innovative green walls are available for hire, together with a regular maintenance program.
One of our friendly team members can assist you with your enquiries. Contact us by email or free-call 1800 631 365.