What is a Green Wall?
A Green Wall is also known as a plant wall, vertical garden, bio-wall or a living wall. It can be free standing or attached to an internal or external wall. Green Walls support and incorporate vegetation in individual containers to combine a complete cover effect of an entire area.
Green Walls provide an attractive design where nature and technology are combined to create the perfect green design for your office.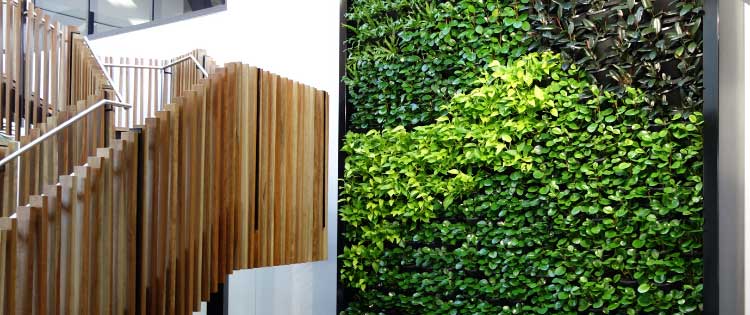 How much water does a Green Wall need?
The amount of water needed for a Green Wall will vary from wall to wall.  Plant varieties, lighting, indoors / outdoors, are all factors that need to be considered for Green Wall watering.
For most of our Green Wall maintenance programs, we irrigate our Green Walls every 7-21 days, depending on lighting and plant species. We usually set timers to complete the hydration process.
How do I water a Green Wall?
An internal drip irrigation watering system is the best way to water a Green Wall.  It recaptures and re-circulates water throughout the plants in the Green Wall.  Water is pumped to the top and flows from plant to plant to the bottom.  This method ensures plants are adequately and evenly watered. A timing system is the most efficient way to water a Green Wall.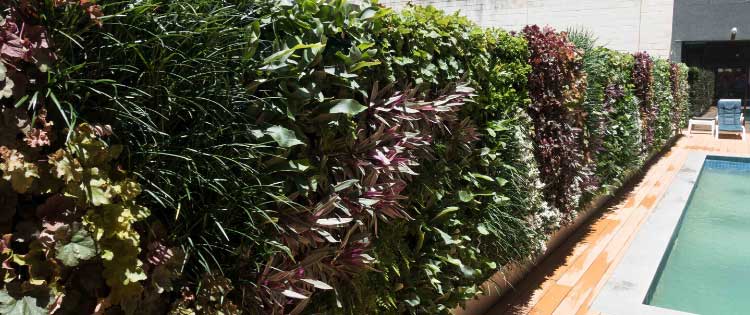 What are the best plants to put in a Green Wall?
We like to use a combination of at least 5 different plant species on most of our Green Walls. We find this provides some lovely patterns, depth and a great visual display.
The best varieties we prefer for an internal Green Wall are Peperomia, Syngonium, Rabbit's Foot Ferns, Spathiphyllum, Philodendrons and Bird's Nest Ferns.
For an outdoor environment, we prefer Rabbit's Foot Ferns, Elkhorns, Liriope, Bird's Nest Ferns and Heuchera.
Do I need to waterproof my Green Wall?
It is always a good idea to waterproof the subject wall before the Green Wall is attached. We recommend marine ply with a waterproof film attached to the face. This helps to ensure excess moisture is not able to damage the wall surface or structure of the building.
This does not apply for an external Green Wall being fitted to a masonry surface or a surface unaffected by moisture.
How do I look after my Green Wall?
Green Walls need regular servicing consisting of watering, trimming, fertilising, plant rotation and replacement at times.
The Green Wall hardware also requires attention.  The irrigation system needs to be monitored to ensure scheduled watering occurs as well as upkeep of the dripping system to ensure there aren't blockages that prevent plants from receiving their water supply.
The best advice we can give on looking after your Green Wall is engage an expert to take care of it for you.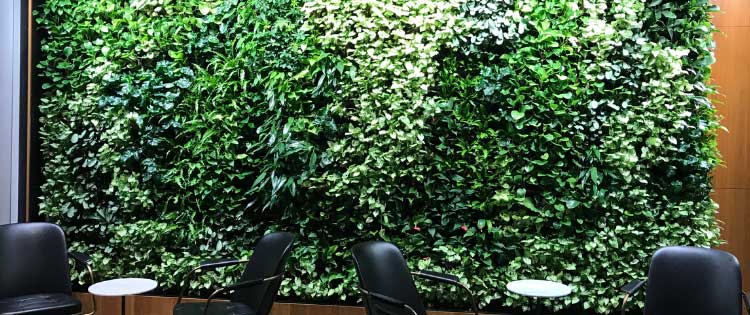 Do I need to fertilise my Green Wall plants?
Just like all plants, plants in Green Walls do need fertilising. This helps to promote new growth for the plants to provide effective coverage in your Green Wall.  We suggest running fertiliser through the irrigation system at half the recommended strength to avoid a build-up of salts. The ideal time for this is during the grown season from September to April.
Why are some of the plants in my Green Wall not growing as well as others?
This can be due to a range of factors including lighting, watering levels, plant selection and suitability, fertiliser and neighbouring plants.  If these factors aren't balanced, it will be to the detriment of the Green Wall.
We recommend rotating the plants in the Green Wall to ensure even growth of each individual plant. It allows the plant to receive light evenly and perform better.
Check the watering to ensure the irrigation system is covering the entire Green Wall and that drippers are not blocked. Regularly checking and maintaining of the irrigation system is strongly advised.
Choosing good quality plants that will perform well together with similar light and water requirements ensure good consistency for all of the plants.
Fertilising each season will promote growth to provide the best coverage.
Choosing plants that outgrow others will cause neighbouring plants to receive less light and not perform to their full capacity.
How much does it cost to build a Green Wall?
A lasting, custom built, high quality and innovative Green Wall is more expensive than a modular off the shelf system. A difficult build retro-fitted Green Wall can cost up to $2,500 per square metre, however the quality becomes apparent after the build. There are varied pricing levels for Green Walls and there are some very affordable Green Walls available on the market as well.  However, our experience shows that for a stunning and successful long-term Green Wall with vigorous growth, a properly engineered wall will give the best results. You'll pay a little more.
The components of our walls interlock and so can't be removed by children or the general public. The water reticulates down the back of the wall, eliminating spillage from the floor and avoiding trip hazards. The plants are positioned at a 45-degree angle.
Do you need to water a Green Wall?
To grow a healthy Green Wall, the plants will need the correct amount of water.
Watering needs to commence at the top of the Green Wall and filter down through the Green Wall plants ensuring coverage for all plants on the wall. This is best achieved with an internal irrigation system that recaptures and re-circulates water throughout the wall.
How are Green Walls constructed?
The initial process starts with a design, followed by sourcing of materials required.  Construction of an internal Green Wall consists of marine ply being attached to the building structure.  Waterproofing is then attached to the marine ply.  This helps to ensure any excess moisture is not able to affect the wall surface or structure of the building.
In retro-fitted Green Walls, the façade and reticulation tank are installed. Green Wall trays are secured to the waterproofing. Trough is installed at the base of the wall. Irrigation is installed.  Irrigation system is covered by the façade (trim) that is then placed over the irrigation system.   The irrigation system is tested thoroughly before the Green Wall plants are installed.  Final stage is the beautiful, living plants being placed into the Green Wall.  Assorted plant varieties can be used to make effective patterns. A company logo fabricated into a Green Wall design is an innovative and trending way to promote your company.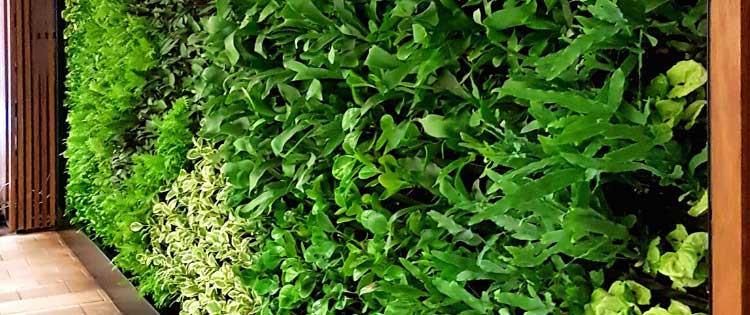 What are the benefits of indoor Green Walls?
Green Walls are a great way to improve indoor air quality. Plants remove pollutants from the air by absorbing gases through their leaves and roots.
Green Walls not only make a beautiful visual statement, they also enhance acoustic elements by buffering sounds.
Green Walls have fast become a stunning nature inspired trend that also provides a pleasant, calming, happy and healthy workplace.  Staff morale and mood is lifted with indoor plants throughout an office and significantly improves absenteeism.  Office plants also raise staff performance and productivity.
Green Walls are a great way to assist clients with their Green Star building certification, in particular, a Green Wall with large soil holding capacity will contribute towards 2 Points for your Green Star Rating.
A regular maintenance program is also required by the Green Building Council Australia (GBCA). Our Tropical Plant Rentals Green Star Accredited Professionals can help.
Are Green Walls sustainable?
Green Walls certainly play a major role in helping buildings to become more energy efficient and reduce the costs associated with cooling and heating of a building.  A Green Wall also acts as a sound barrier and improves acoustics.
An external Green Wall can help to shade the wall surface of a building. A sustainable Green Wall helps to reduce our carbon footprint and support a healthy planet.
How long will a Green Wall last?
It's been estimated that a Green Wall structure can last up to 25 years when the hardware is properly monitored and maintained. When it comes to Green Wall plants, it's difficult to estimate exactly how long they will survive in a Green Wall. Many factors would determine the plants life expectancy. For example, available lighting, species and the root system of each plant species. With proper care and positioning, plants can continue to survive until such time their roots run out of growing space in their pot.
Plants do have the ability to grow sustainably within a Green Wall. With a regular and professional maintenance care program, plants have the ability to thrive in a Green Wall. As with any garden, plant replacement will sometimes be required and replacement of plants is included in our Maintenance Program.
Can I have a Green Wall custom made to fit my office?
Our Green Walls can be modified and adapted to meet your specific design brief requirements. We can provide our own range of products as well as a diverse range of others, to construct a bespoke Green Wall for your office.  We take great pride in what we do and love making your business look great.  Entrust us with the green design for your living Green Wall.
Can Green Walls improve indoor air quality?
Green Walls can significantly improve indoor air quality. Plants remove carbon dioxide from indoor environments and replace it with oxygen.  Plants also have the ability to filter the air and absorb harmful pollutants from the indoor environment, including Volatile Organic Compounds (VOC's). With an abundance of plants in a Green Wall, it will certainly clean your indoor air in no time.
Where can I put a Green Wall?
A Green Wall can be installed in most locations.  There are different types of Green Walls and choosing an appropriate model will depend on whether it will be located in full sun or shade, under an awning or inside. Lights are an important factor for Green Walls that will be erected under awnings or inside.
For new buildings, if the façade, irrigation and plumbing can be incorporated, it reduces the cost of the build significantly. However, retro fitting Green Walls is the most common practice at the moment.
A Green Wall can be designed for existing buildings, refurbishments or we can collaborate with a designer / architect in the initial design phase of a new building or fitout.
Commercial buildings, shopping centres, hotels, hospitals, schools or anywhere there is an urban environment with sufficient wall space.
If you'd like to enjoy all the benefits of a stunning, innovative, living Green Wall contact Tropical Plant Rentals on Free Call 1800 631 365 or email us.
Our Tropical Plant Rentals Green Wall specialists can design, install and maintain your Green Wall where you can trust that your living wall will be healthy, stunning and successful every time.