Biophilia is the innate tendency humans have to seek connections with nature. Often our workspaces do not contain much greenery or nature. Various studies have suggested that adding some simple greenery can be very beneficial to your workplace.
Here is a list of reasons why you should hire plants for your space from us here at Tropical Plant Rentals.
HELPS TO IMPROVE OFFICE WELLBEING
Australia's Biggest Mental Health Check In ran a study within the health of corporate Australia. The study indicates that 1/3 of employees suffer from mental health issues. The most prevalent being anxiety, depression and stress. Psychologists have argued that the colour green itself provides a relaxing and calming effect.
Further studies suggest the following:
Active interaction with plants can help to improve physiological and psychological stress.
Plants suppress the sympathetic nervous system activity and lower blood pressure. This then promotes feelings of comfort and calmness.
Plants and their soil contain beneficial bacteria. They have the ability to purify the air of harmful chemicals and toxins, reducing sickness and absence rates within the office.
Indoor plants further help to regulate and boost mood.
Just being in the presence of natural elements increases feelings of relaxation and positivity, making the workplace a happier environment for everyone!
INDOOR AIR QUALITY
Indoor plants work to purify the air within confined spaces. NASA's Clean Air Study found that plants work to remove toxins pollutants and chemicals from the air such as:
xylene
benzene
formaldehyde
carbon monoxide
Indoor plants provide an increase in oxygen and work as natural humidifiers. This allows for easy breathing within confined spaces. Our aim is to provide the most suitable office plant hire that will assist with the indoor air quality.
HELP TO INCREASE PRODUCTIVITY
A 2015 study conducted by Dr Chris Knight concluded that 15% of employees were more productive once indoor plants were introduced. Plants are proven to provide psychological engagement. Working in an environment where you are psychologically engaged, promotes feelings of happiness and productivity. Dr Chris Knights research indicates plants within offices and homes increases workplace satisfaction and improved concentration. Greenery within the office increases productivity and engagement through physical, cognitive and emotional involvement within work.
BOOST CREATIVITY
According to The Human Spaces Report regarding The Global Impact of Biophilic Design Within the Workplace, those who worked in environments containing natural elements such as indoor plants were 15% more creative. A 2017 study ran a series of experiments, concluding that the colour green itself enhances creative performance. Our team can provide the green design you need with our office plant hire to boost your staff's creativity.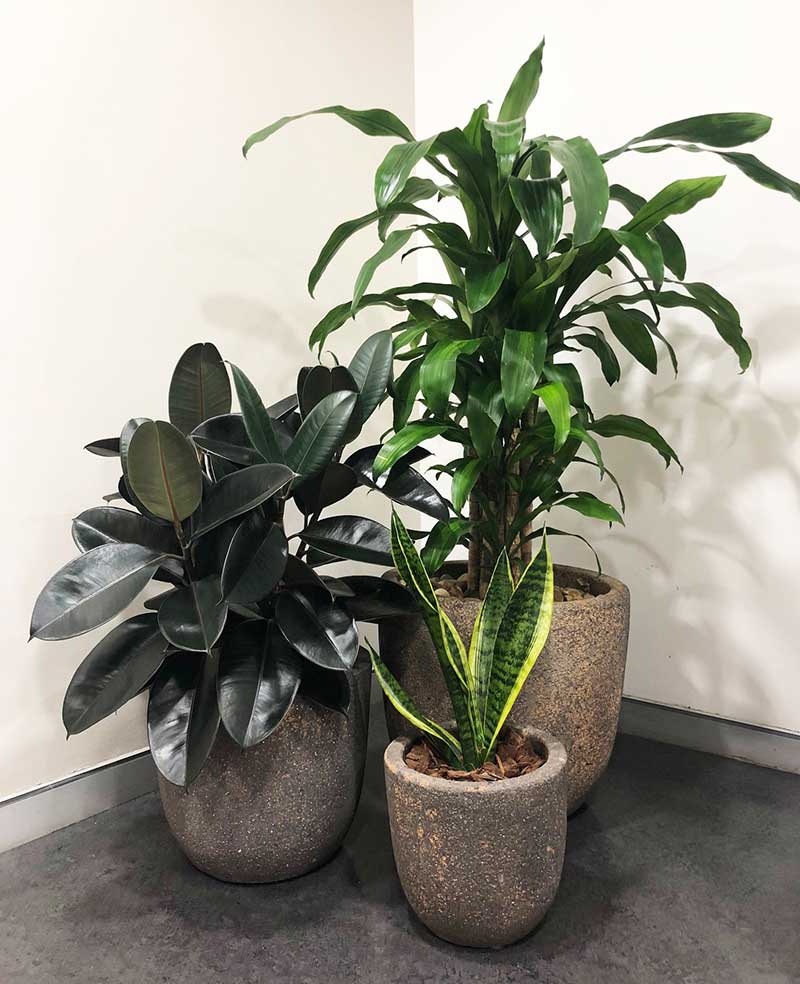 MAKE WORKSPACES MORE ATTRACTIVE AND VIBRANT
It isn't any secret that lush greenery makes any space look more vibrant, fresh and appealing. Often confined spaces such as offices can be dull and unappealing. Studies have shown that appealing workplaces can increase employees' feelings of workplace satisfaction. Appealing, vibrant workplaces provide a more welcoming environment to job applicants and visitors. A green design using office plant hire will certainly help create an instant impact.
NOISE REDUCTION
The most visually appealing way to block noise in your office is with indoor plants. Indoor plants reduce noise through sound absorption. Fleshy leaves are very effective in absorbing noise because of their dynamic surface area. Plants placed around the outside of the space are the most effective. This is because sound is reflected from walls and straight into the plant. Reduced sound allows for better concentration, productivity and a happy work place! Our office plant hire also includes Green Walls that also have an impact on noise reduction.
NOT HAVING TO WORRY ABOUT MAINTENANCE – PLANT HIRE IS A LOW-COST AND WORTHWHILE ALTERNATIVE
The best part about hiring office plants from Tropical Plant Rentals is that you get all of the benefits and we do all of the work for you! We provide high-quality plants and pots. We will use our knowledge and expertise, whilst incorporating your needs, vision and goals. Tropical Plant Rentals provide the most appealing, lush and vibrant spaces.
We also handle all of the plant hire maintenance. Our scheduled plant hire maintenance program ensures plants are:
watered
pruned
fertilised
healthy
replaced when needed
Our team at Tropical Plant Rentals pride ourselves on quality. We always ensure our indoor office plants are flourishing. Plant hire is a low-cost and effective way to ensure your office is looking it's best.
If you would like to add indoor plant hire for your office, please contact us 1800 631 365 or email us at info@tpr.com.au