After a very busy start to 2020, we've encountered some pretty hot emerging trends for indoor plant hire. We were asked recently what the trending or popular indoor plants for 2020 are. While some have made a huge comeback, there is a lot to be excited about in what will yet unfold as the newest in indoor plant trend for 2020.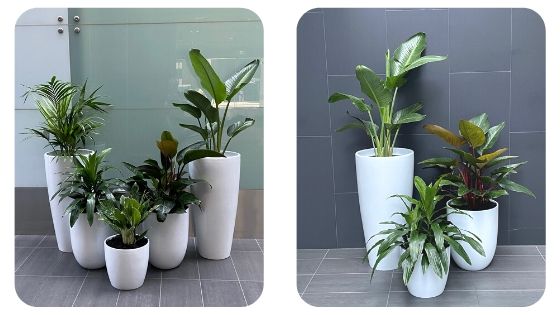 Here's our pick for the Top 5 Plant Hire Trends for your office plant hire to kick-start the new decade.
Cluster Planting
Cluster planting is a popular plant trend at the moment and proving to be the Number 1 request from our office plant hire clients. We have used Cluster Planting abundantly over the past 12 months and 2020 seems to be headed in the same direction. What started off as 2 or 3 plants grouped together to provide an instant impact to greenery for your office has quickly moved to 5 and more plants to really give the WOW factor. With the use of various height pots and varied plant varieties, it provides a solid injection of greenery as well as a welcoming feeling to clients and staff as well as a stunning display too.
We have a stunning range of designer pots that assists in achieving some beautiful displays. Our Cone, Wedge, Square and Luna Range all look great in cluster plant displays. An eclectic mix of recycled pots is another great way to decorate as well as a clever recycling option.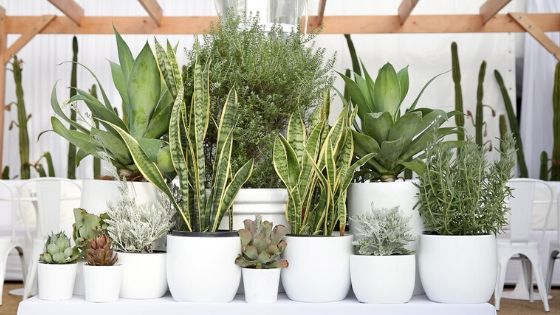 Big and Bold!
Did we say big? Big and Bold is already a sought-after choice for 2020 indoor plant hire and is quite the fashion statement. With several requests to provide plants to create a huge impact statement for green design plantings for Foyers and Entrances. Part of our designer pot range includes large pots. Our large pots have the ability to bring a big open space to life and allows for a solid impact of greenery. We love transforming a blank canvas using our healthy, lush plant hire service. Say goodbye to lost and lonely plants for a large open space with our supersized XXXL Cone range to create a dramatic, yet stunning, eye-catching plantscape. Nothing creates the wow factor more than a well-proportioned indoor plantscape, with the correct plant to space ratio. Our big and bold pots and plants provide volume to create vibrant and welcoming environments for staff and visitors.
Mixed Planting
Mixed planting is another of our biggest requests from our clients. We have a range of pots that will not only support a large plant, but also allows for underplanting around the plant. This makes a stunning display of botanical beauty. We can even trail plants over the pot edge for an added finishing touch. It's amazing what a difference simple touches can create.
Providing the correct plants are sourced, this plant hire trend can create an extremely impressive visual appeal that turns heads and captures attention.
Our stylish and modern XL Cone range is a perfect choice for a mixed planting design.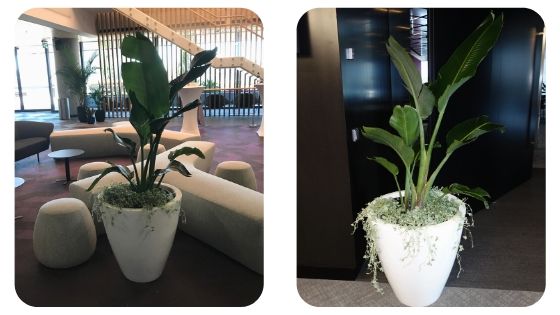 Trailing Plants
The Spider Plant and Pothos have also joined the 2020 trend of indoor plants. Trailing plants have also proven to be a well sought-after choice this season in indoor office plant hire. Whether plants are trailing from Pot Plant Vertical Garden Walls, cupboards or shelving, they make a beautiful display. Our most popular varieties are pothos, particularly the Pothos 'goldilocks' variety along with spider plants. There is a therapeutic energy in having plants in your office with a trailing habit. It may just be the soft flow of foliage to create depth and colour to your working environment.
Trailing plants can be beautifully showcased in one of our Pot Plant Vertical Garden Walls. And don't forget, our Vertical Garden Walls can be custom made for your office plant hire requirements.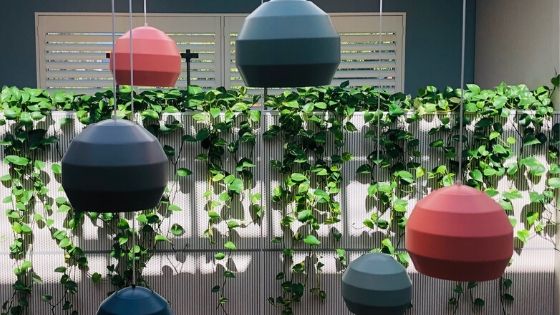 Hanging Pots & Plants
Hanging Pots & Plants are still a popular choice for 2020. They look great in clusters suspended from the ceiling or just on their own. Hanging Pots are perfect alternatives for indoor office plants, if floor space is limited.
Popular plant selections for office plant hire include Pothos, Boston Fern, Hoya, Rhipsalis and Spider Plants.  Each has their own uniqueness and provides a beautiful display of greenery that is visually eye-catching.
We have a beautiful range of fibreglass hanging pots that really showcase beautiful hanging plants. These are finished office with an elegant stainless-steel swage wiring system to attach to your ceiling hooks.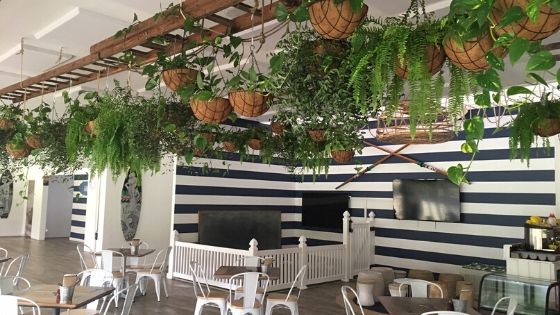 If you'd like to jump onboard for the latest in indoor plant hire trend for your office or other working environment, contact us online or free-call 1800 631 365. Feel free to discuss our obligation free professional plant hire and maintenance service we have available.