Open plan office areas have become a trend. They can be very beneficial for inspiring collaboration between workers.
Having an open plan office area is an effective real estate cost cutting measure for business owners. As well, the carbon footprint can be reduced. An open plan layout will use less space than individual private offices using more walls and doors.
But if you have an open office layout there is more to consider than meets the eye.
The problems faced with working in an open plan office with fellow employees can sometimes far outweigh the benefits. Most people struggle to block out background noise. Background noise can cause stress and interfere with concentration, productivity and creativity. This could have a negative impact on the health of workers, resulting in reduced concentration, productivity and well being.
Another issue is lack of privacy. Open office layouts usually combine various departments. For example, an accounting team, an IT section and a Human Resources department all working close by so they can communicate. But having so many people in such a small area, can be detrimental to productivity. We spend a large amount of time indoors. Humans instinctively need some degree of privacy.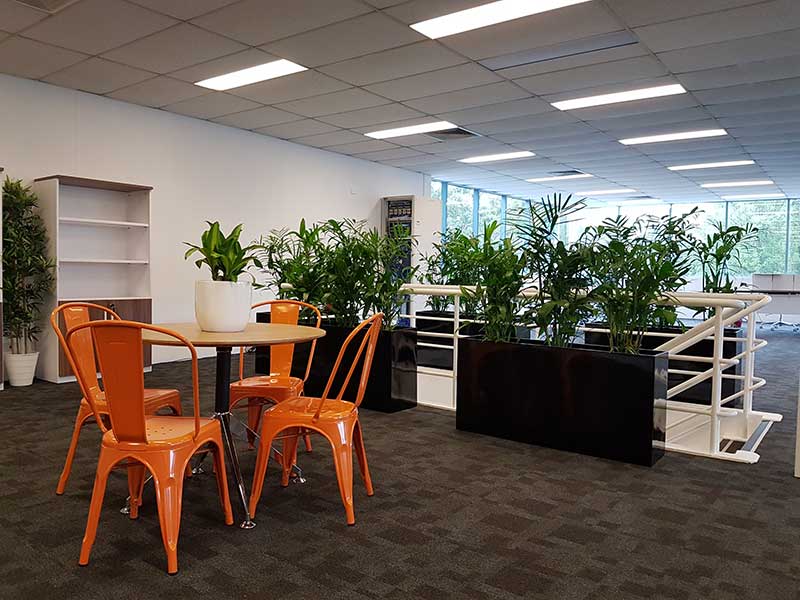 How indoor office plants can improve open plan office spaces
Introducing indoor office plants can improve the issues faced with open plan office layouts. Not only do indoor office plants provide privacy, but they help to absorb, diffract and reflect noise in the office. In particular, this is more effective when there are hard surfaces, such as stone walls or hard floors.
Most busy office environments consist of various noises. Phones ringing, keyboard sounds, phones vibrating, people taking calls, printers running and drawers opening and closing all contribute to noise. There may also be a noisy air conditioner. Combine those sounds together in an open area. It can be rather overwhelming and distracting.
Before the construction stage of a new building, certain materials and design layout are all points to consider. But what if the pre-existing space has not allowed for any of these points? Whilst there's no such thing as a completely sound proof office, indoor office plants can play a major part in muffling noise. And the result is instant.
An internal green wall can also help to absorb sound. Green walls have the ability to house a large amount of plants. This enables a lot of background noise to be reduced by being absorbed by the plants.
If limited space is an issue, some clients, architects and designers will opt for hanging plants, pot plant vertical gardens, green walls, partition troughs or cabinet top planters. These are highly regarded in bringing nature indoors. A perfect way to capture the benefits of a green design with limited space.
An employee's mood, health, efficiency and performance can be improved with indoor living plants. Properly placed plants are a simple, cost effective means of improving all round office acoustics and wellness of employees.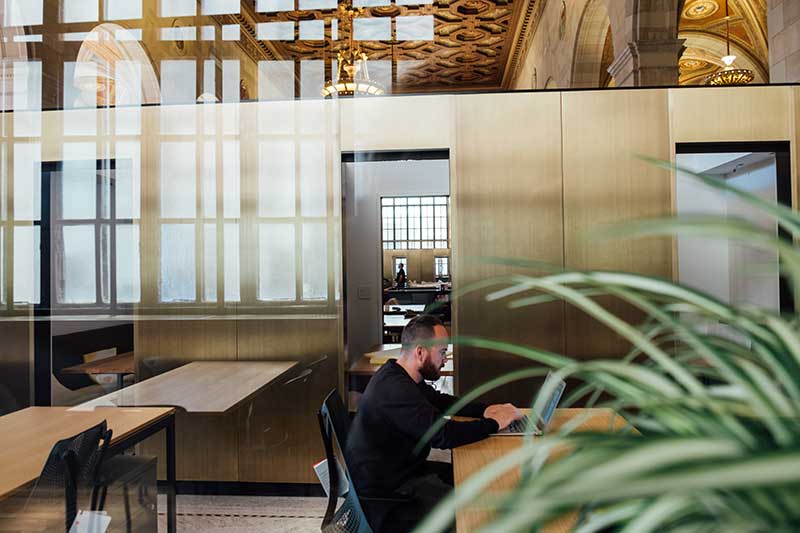 How to choose the correct plants
You may be unsure where to start. Choosing a reputable indoor plant hire company is a good start. Tropical Plant Rentals have over 40 years' experience in the indoor plant hire industry. We understand the positive impact an indoor green design is for the health and wellbeing of the entire office. A member of our team can quote, according to your budget. We can provide, install and maintain your indoor office greenery. They will always look fresh, lush, healthy and well maintained by one of our friendly team members.
We can guide you with the correct number of plants, species and the best location for your indoor plants. Choose from our variety of trendy containers which will be included in your monthly rental quote.
For an obligation free quote contact us online or call 1800 631 365.