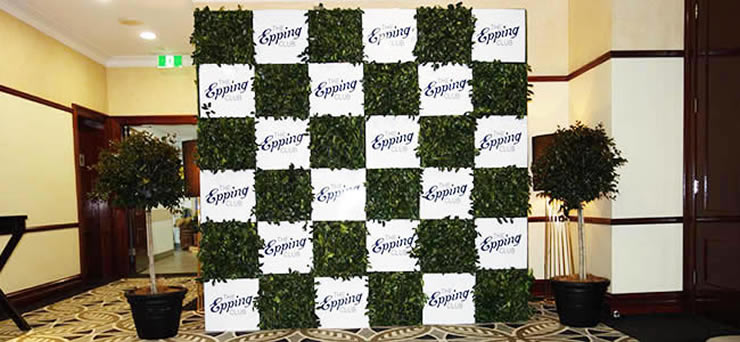 These days it's hard to find that extra edge when planning an event. In this time poor, budget savvy climate, you need the "wow factor" without the price tag and without spending too much time and effort. Media walls, and in particular, green media walls, are the perfect solution for event managers, event coordinators and anyone who needs to organise an impressive event. Media walls provide a focal point for an event. Media walls tell people that they have arrived to something important – they are about to experience something special. Media walls can be used in the foyer of an event as a backdrop, on the stage of an event or as a main feature. High profile event managers use media walls for high end fundraising events, special horse race events, product launches, business awards and a range of other events.
A media wall is used to increase brand awareness during an event. People at an event are drawn to the business logo or group name on the media wall because of the interesting design of the media wall. The marketing impact of media walls in social media cannot be underestimated. People attending events love to let their friends know where they are. Giving people a photo opportunity with a fancy backdrop encourages snap happy socialites to instantly upload their media wall images to Instagram, Facebook and other social media. This means the branding on the media wall spreads far and wide in an instant!
Of course, the more impressive the media wall, the more likely the happy snaps will be uploaded and shared. This is where green media walls come into their own. Green media walls use plants as either part or all of the backdrop. The brand or logo is either in front of or in between the greenery. Checker board design in green media walls is very popular. Solid green walls are also popular. Green media walls really make an impact. They are a must have item at any major event.
The beauty of green media walls, apart from how great they look, is the feeling that nature has been brought indoors. Plants create a feeling of wellbeing – a fresh, clean feeling. Green media walls bring these feelings to the events. These feelings, in turn, are linked with the brand on the media wall.
Media walls, and in particular, green media walls, are sure-fire way of increasing your brand awareness at events and media opportunities.