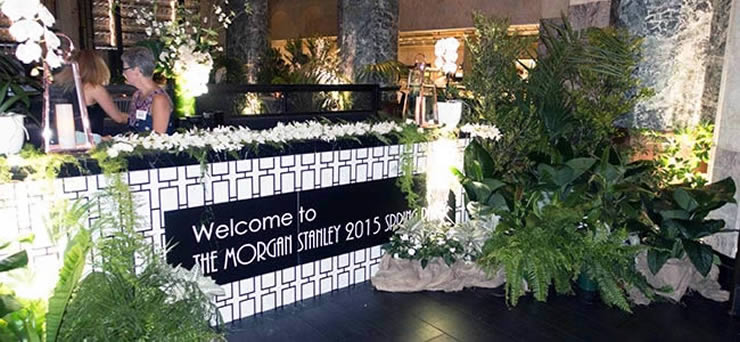 So you've got a big event to plan for and you need to 'knock the socks off' your guests?!  Well you've come to the right place!  Whether you're planning a wedding, a product launch, a promotion or corporate event, a photo shoot or a themed event, using plants for hire as a way to create the perfect space is a clever choice for the on-trend event coordinator.
The idea of creating the right atmosphere for an event using nature is not a new concept.  Events have, for many years, used flowers and floral arrangements as focal points.  From table top centrepieces to rose petal scatters – floristry has led the way for using nature to create stylish and impressive events.
But now, when creating that extra edge for an event, people are using plants for hire to add the wow factor.  Plants for hire is a relatively new concept for the general public who are planning their special event.  It is now an accessible option.  It's value for money cannot be overestimated.   The huge variety of short term plants for hire that are available means there's a set up suitable for every occasion.  If you're having difficulty picturing the types of plants you could hire for your next event, consider ferns, kentia palms, vines, flowering plants like orchids, citrus plants, fruit trees or Australian natives .  We have a huge selection of lush, green plants for hire.  Plants for hire can be used to create a theme, be a backdrop for a theme or simply create ambience and beauty to an event space.
The most watched and talked about event of the decade was the wedding of Prince William and Princess Kate.  And what was the most talked about feature of the event, other than Princess Kate and her sister Pippa's dresses?!  It was the gorgeous trees that lined the aisle.  The 20ft maple trees inside Westminster Abbey!  Just when you thought Westminster Abbey couldn't be any more grand, trees and plants were used to make their wedding the grandest of events.  And weren't they impressive – highlighting the vast space inside the famous church while also bringing the English countryside to an interior space in the middle of central London!
Plants for hire can achieve so much for an event.  Plants soften spaces, they enhance backdrops, they accentuate and frame features and focal points.  Plants also create layering and depth in spaces.  Plants for hire brings nature to spaces which are otherwise artificial.  Plants for hire is a sustainable alternative to wasteful floristry arrangements which are disposed of shortly after the event.  There are so many reasons to use plants for hire at your next event, so don't be afraid to delve into the rewarding world of plants for hire!