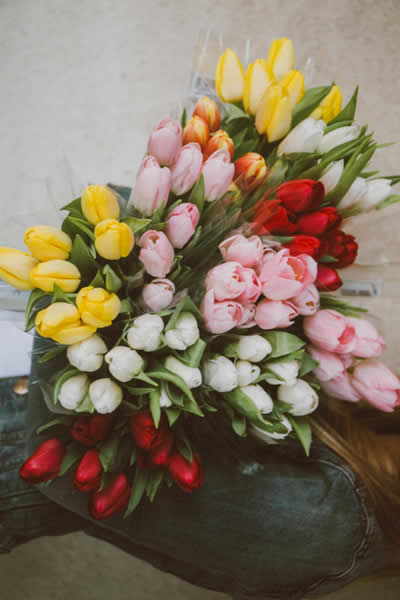 We all know how visually appealing a fresh colourful bouquet of flowers can look. Especially displayed on an office reception or desk. However, there is nothing as refreshing as a potted plant that complements your space, freshens up your day and increases the time of enjoyment by reducing the time of maintenance.
But do we know the environmental impact of freshly cut flowers?
Some flowers around the world are labelled "freshly picked." However, a lot of flowers in Australia are imported from foreign countries such as Kenya, Vietnam, Ecuador and Ethiopia. They are hauled from abroad in temperature-controlled trucks, packed onto an airplane and then another temperature-controlled truck for their journey to a florist. By the time they arrive, they are not really considered freshly picked and shelf life has been dramatically reduced. Cut flowers follow a long cycle production process for a short-term product. They also require a lot of chemicals which have a negative impact on the environment.
Potted Plants Live Longer
It goes without saying that a potted plant is also visually appealing, although there is a very important difference.  A potted plant will far outlive a perishable bouquet of flowers and replenish the environment. Take the Phalaenopsis Orchid for example. A flower on a Phalaenopsis Orchid can last up to 12 weeks. After only a handful of days, a bouquet will start to wilt, as the flower stems are no longer attached to a living plant. The water in the vase will become stale and smelly. The flowers will be placed in the bin for disposal.
Potted indoor office plants continue to live, grow, eat and breathe.  The beautiful foliage of an indoor office plant will continue to visually enhance an office space for months on end. Many potted indoor office plant varieties will produce a flower. Others have attractive variegated foliage.
Enjoy their Cost-Effective Nature
While a bouquet of flowers from a trendy boutique might sound like an appealing idea, it can cost as much as a dinner at a fancy restaurant. However, when you buy a potted plant, not only do you receive the benefit of a beautiful green addition, but you also have the ability to spend that money elsewhere. Potted plants provide multiple benefits with minimum effort. 
The added bonus is that the Tropical Plant Rentals team takes care of maintenance and repairs for you! So there are no hassles involved. 
Indoor Plants have many Benefits
Indoor office plants help to provide a healthy office environment. Plants (foliage, roots and soil) assist in purifying indoor air. This is done by removing VOC's (Volatile Organic Compounds) created by carpets, office furniture and various office equipment such as photocopiers and printers. Many offices are without ventilation so plants are even more beneficial in these settings.\
Staff and visitors to your office will feel more relaxed. Indoor plants have been known to reduce stress and help concentration levels. This creates better staff morale and productivity.
Indoor office plants also help to humidify the air and make your office a more inviting and inspiring work place.
Potted indoor plants provide visual appeal and health benefits and are financially more economical.
Potted Plants provide Value
As we already established, buying cut flowers is an expensive means of adding an attractive visual display to any office. After only a handful of days, the flowers end up dying and go in the bin. This is not financially viable for most companies. The cost of living, breathing indoor office plant hire is far less expensive per month than a large bouquet of flowers. That's not to mention the added health benefits of having indoor plant hire, as mentioned above.
Next time you consider buying flowers, explore your options. We all need to consider the amount of water, chemicals, transportation emissions, land, labour and carbon footprint they leave, for a such a short term benefit, the cut flower.
How an Indoor Plant Hire Company can help?
By engaging an indoor plant hire company, an experienced, professional plant technician will visit your office on a regular basis. They will ensure the plants are always healthy and fresh. There is no need for you or your staff to worry about them. If your indoor office plants start to look sick, they will be replaced without question.
For an obligation free quote email us or call on 1800 631 365.