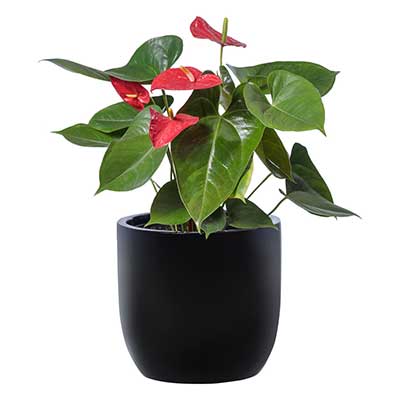 Desk plants are a beneficial addition to any office desk. They can bring health and wellbeing to your workspace. People often ask what are the best plants for an office desk. The good news is, there is an array of plants suitable for your desk and many of them will survive in low light conditions. Placing a plant on your desk is the perfect way to pep up a stale or artificial environment and at the same time, you'll get to enjoy some nature at work.
There are a few important things to consider when choosing a plant for your office desk:
Make sure the plant is correctly sized for your desk. A plant that is too small will look lost and a plant that is too big may outgrow and overtake your work area.
Consider the position of your desk and which plant will tolerate the light conditions
Decide if you prefer an evergreen variety, variegated foliage, burgundy foliage or a perhaps a flowering desk plant.
Ensure you use a sealed pot. Fibreglass pot is the best option, it not only looks great, but it's non-porous so won't leak.
Having a desk plant in a stylish, designer pot can generate a natural and peaceful energy to your work space. The following plants are some of our favourite varieties to use for a desk:
Pothos
Aglaonema
Happy Plant
Spathiphyllum (Peace Lily)
Philodendron Congo
Zanzibar Gem
Sanseveria
Peperomia
Bromeliad, if you prefer some colour
We spend so many of our waking hours working indoors at our desk and after time, some of us can feel deprived of enjoying the natural outdoors. There are so many benefits of having desk plants, even floor plants or a green wall for that matter.
What are the health benefits of Desk Plants?
Following are just some of the many health benefits when adding a living indoor plant to your desk:
Psychological Benefits:
Improve mood by visually enhancing our work space
Living plants can help us feel calmer and more creative
Being around nature can improve our productivity
Physical Benefits:
Improve the humidity of the indoor air
Provide oxygen into the air and remove carbon dioxide
A desk plants can help to remove harmful toxins from the air Ie. Volatile Organic Compounds such as benzene, xylene, formaldehyde and trichloroethylene that are found in indoor environments.
These toxins are emitted indoors from such things as carpets, paint, furnishings etc. See NASA's top 100 air cleansing plants list.
Keeping a Desk Plant Healthy
There's an endless array of information about how to care for different plants. If you've had a run of bad luck with keeping your desk plants healthy and all the care information bamboozles you, perhaps it's time to consider having a professional indoor plant hire service take care of your desk plants for you. That way you won't need to worry whether you are fertilising and pruning correctly, or giving too much water or not enough water to your plants. The only thing you will need to do is enjoy your new desk plant and the many health benefits it will bring to you and your co-workers.
Contact Us
If you would like some help with indoor office plant hire for your working environment, then why not give us a call or send us a message here. We provide indoor plant hire in Sydney, Melbourne, Wollongong, Cairns, Brisbane, Gold Coast & Newcastle. One of our friendly, trained staff will contact you to arrange a time for a consultation to discuss your indoor plant hire requirements.