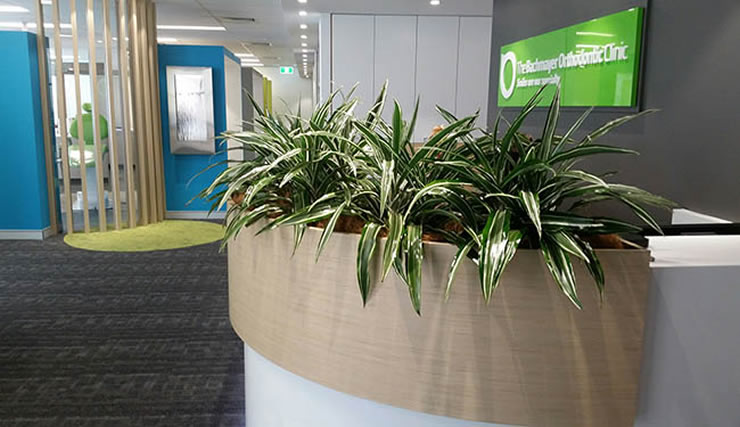 Creating beautiful green spaces in the office using indoor office plants often requires the services of a designer. However, with a little bit of research, you can easily work out how to hire indoor office plants to create a beautiful space.
So, what are the top 5 plant choices to consider when creating a green space in your office?
1. Plants for screening:
When the purpose of indoor office plants is screening or privacy, there are many palms that are perfect for the job. Consider Lady Palms, Golden Cane Palms, Kentia Palms or Bamboo Palms. These plants are visually appealing. They are both thick enough and large enough to create a screening wall. They are great choices of indoor office spaces used singularly or in a group.
2. Plants with an interesting shape:
If you want your indoor office plants to be a talking point, consider a Giant Bird of Paradise, a Yucca, a Grass Tree or a Column Cactus. Any of these choices will create a statement piece in the office. They also provide all the usual benefits of an average indoor office plant.
3. More than just plain green:
There are many plants with coloured leaves that are suitable as indoor office plants. The Grey Star, with it's purple to red underside and grey-green topside, the Croton which has red and yellow variegation on it's broad green leaves, the Red Leaf Cordyline with it's burgundy red leaves or the Mother-In-Law's Tongue with it's dark green cross banding and yellow edges, to name a few.
4. Tall as a Totem:
If you're looking for a tall totem style indoor office plant for a corner, a central structure or an entryway, Devil's Ivy and Philodendron Panda are your go to plants!
5. Breathing easy:
And what's the ultimate plant for the very practical purpose of improving the air quality in the office? It's the Peace Lily! The Peace Lily, or Madonna Lily, is considered by NASA researchers to be one of the top indoor office plants for cleaning air. The Peace Lily is a tropical plant that breaks down and neutralises toxic gases like benzene, formaldehyde and carbon monoxide! And to top it off, this hard working "air cleaning machine" is also aesthetically pleasing to the eye, with interesting white blooms.
So, whether you need indoor office plants to improve air quality and reduce stress levels, create privacy screening as a beautiful alternative to partitioning or create an impressive space for clients and business associates to visit, try hiring an indoor office plant TODAY!