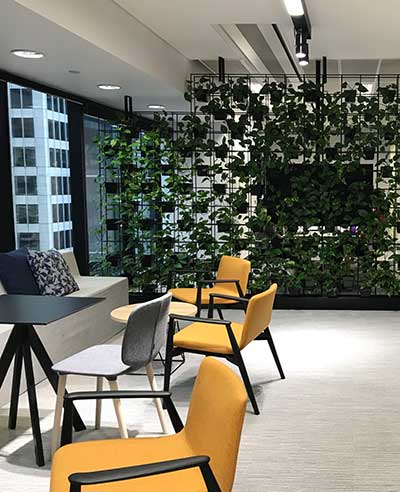 Indoor office plants or green walls can be the perfect finishing touch to your working environment. After all, we all enjoy looking at nature. Many studies have proven that simply looking at nature can improve mood, help us to feel calmer, be more productive and more creative. Since we spend so much of our time indoors, then it makes perfect sense to work with nature.
Usually the hardest decision is whether to choose fake plants or real living plants. Factors you may consider are budget, available light, office design, space and layout. There are pros and cons to both fake and real living plants, although the biggest health benefits to employees, can only be provided by, you guessed it, real living plants at work.
If you're considering the best indoor plant option for your working environment, you may want to consider the following: –
Real Living Plants
Working with indoor office plants or a real living green wall will provide many rewarding health, physical and emotional benefits to human beings.
Pros of Real Living Plants
Provide oxygen into the environment
Helps to improve indoor air humidity
Natural air purifier, help cleanse the air we breathe by removing harmful VOC's such as benzene, formaldehyde and xylene found in indoor office environments
A natural living organism
Visually appealing, so able to boost mood and morale
Can help to increase productivity & creativity
Won't become landfill and will decompose back into the environment
Easier to maintain, dust does not stick to foliage
Leaves don't fade
Unhealthy leaves can be pruned. New foliage will grow
Cons of Real Living Plants
Needs regular maintenance such as watering, fertilising and pruning
Can become unhealthy or be pest infested
May need replacing more often
Artificial Plants
The quality and aesthetics of artificial foliage has improved in the past decade or so. The majority of fake plants these days can look very life like and feel quite real. Having artificial greenery in your office does have a few advantages, particularly if you don't have a green thumb.
They don't require water, fertiliser or trimming and don't need replacing as often as real living plants.
Pros of Artificial Plants
Visually looks like nature, so able to boost mood and morale
Don't need soil, watering, fertilising or pruning.
Can be positioned anywhere as don't require sunlight
Won't attract insects
Will not trigger allergies such as hay fever
Cons of Artificial Plants
Tend to be dust collectors
With age, leaves can become sticky
Need regular cleaning, which can be a tedious and time-consuming task, usually to be tackled outdoors
Prone to fading
Don't provide oxygen
Don't improve indoor air humidity
Don't clean air from harmful toxins found indoors
Lifeless and do not grow, only a synthetic replica of a real living plant
Made from artificial materials and dyes, unhealthy for our environment
Can generate an unpleasant "chemical smell"
Non-biodegradable, so will eventually become landfill
Conclusion
For the biggest health benefits to your employees, investing in living indoor plants to enhance your environment, far outweighs any benefit of having fake indoor plants.
It's a known fact that indoor plants are natural air purifiers. Having plants indoors helps to remove carbon dioxide from the air and in return, provide oxygen, the very thing humans can't live without.
While fake plants can look the part, they certainly don't do their part for our indoor environment. In fact, they can be detrimental to our health as well as our environment. Fake plants are made using artificial materials and dyes, so instead of cleaning our environment, they can contribute to unhealthy air.
Artificial plants are an artificial creation of the real, living, breathing, growing, air cleansing plant.
Indoor Plant Hire
Do you prefer the important health benefits that real living plants provide? What if you don't have a green thumb, the time, patience or know how to take care of real living plants? Don't despair. Tropical Plant Rentals provide healthy indoor plant hire and maintenance. We have over 40 years' experience in the indoor plant hire industry, with a team of experts in Sydney, Central Coast, Newcastle, Gold Coast, Brisbane, Wollongong & Melbourne. One of our team members can consult with you to discuss options for beautiful, living indoor plants to suit your environment. This can be done taking into consideration your requirements, design and layout. Our living indoor hire plants will always look their best. The good news is, if they become unhealthy, they will be replaced free of charge as part of our maintenance program. We offer our professional indoor plant hire service and maintenance program to offices, hotels, lobby, foyer or reception areas, showrooms, aged care facilities, hospitals, medical centres, restaurants, cafes and display centres.
Plants for Events
We also specialise in short term plant hire for all types of events including television and filming, concerts, expos, festivals, theatre, photoshoots, displays, parties, weddings or any corporate function. Our plant stylist can turn your event into something special using healthy, lush plants and pots from our stylish designer range.