With more than 40 years' experience in office plant hire, we have seen many plant trends throughout that time.  Working closely with architects, designers and builders it allows us to stay up to date with the current trends.  Our current Top 5 plant trends for office plant hire are as follows.
Pot Plant Vertical Garden Walls
With limited office space, our beautiful Pot Plant Vertical Garden Wall allows our plant hire clients to bring in a large volume of greenery in a small area.  This sleek, slim-line greenery wall makes a great impact without taking up a lot of space.  It is visually appealing and can suit several plant varieties.  It is a great way to divide areas.  It also provides great sound absorption for your office acoustics.  The Pot Plant Vertical Garden Wall makes a stunning entrance to your office foyer and reception.  We work with our engineers to have the Pot Plant Vertical Garden Walls custom built to enhance your office plant hire.  With a regular maintenance program, the Pot Plant Vertical Garden Wall always looks its best.  The colourful Pothos and Peperomias are our most requested plants to add to these walls.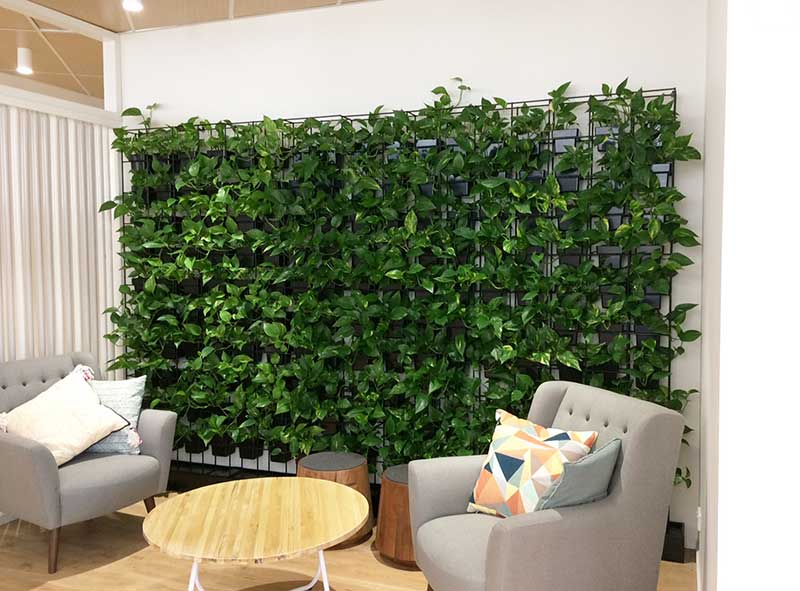 Tambour Units
Tambour Units are a popular request from architects for Office Plant Hire.  Tambour units are not only great storage for office clients but also a terrific way to bring greenery into an office without taking up valuable floor space.  Our purpose built Green Star Trough along with our double Green Star Trough adds 3 and 6 plants respectively into a 900mm area.  Like the tambour unit, these Green Star Troughs can be added on top of a storage cupboard.  We find the Zanzibar Gem and Aglaonema to be the popular choice to fill the tambour units and Green Star Troughs.  They provide a solid impact in a small amount of space.
Floor Plants
With so many pot styles to choose from, the Floor Plant is always highly sought after for office plant hire.  With wedge, cone, square & cylinder shapes to choose from for single floor plants, the choice is always quite varied.  There are also our beautiful Low and High Floor Troughs that pack a real punch of greenery into 1.2m of space.  The beautiful slim line High trough filled with Janet Craig's is an extremely popular choice.  It works so well with timber features that are prominent throughout many offices.  Our most requested floor hire plants are Janet Craig's, Happy Plants, Kentia Palms and Pathos Totem.   The beautiful variegated Deremensis is also a popular choice.
Hanging Plants
Hanging Plants have made a huge comeback in the hire plants industry. This plant trend is showcased in many brochures and magazines at the moment.  Not only in offices but also in homes.  Pothos plants work very well in hanging pots with their beautiful trailing habits.  Boston ferns are another popular hire plant choice.  Succulents have made also made a comeback with the lovely   string of pearls, string of bananas and chain of hearts frequently requested for plant hire. We have a beautiful hanging pot range.  We like to use swaged stainless-steel wire and hooks.  They suit many office styles including industrial, contemporary and luxe.  Hanging Pots provide a great space saving option for plant hire as well as giving stunning visual effects at eye level.
Green Walls
A much loved plant trend throughout the past 5 years is the beautiful Green Wall.  For the past 10 years Tropical Plant Rentals has been building and installing stunning green walls into our clients offices, foyers and exteriors.  They are extremely popular to assist our clients with their Green Star Accreditation.  With the large soil volume in some of our Green Walls and a regular maintenance program, it helps tick the box for Green Star Accreditation.
We love to use colourful varieties of plants in our green walls that not only look stunning, but also provide patterns and shapes.  We have a wide range of different styles to suit every budget and design brief.
Our Green Wall services include design, construction, planting, irrigation and a regular scheduled maintenance program.  Each component is given extreme planning to ensure the Green Wall is always looking its stunning best.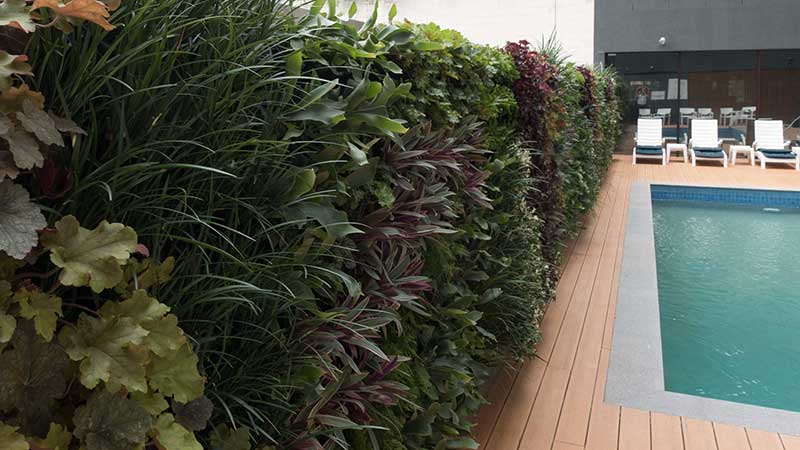 If you would like further information on our plant hire for Pot Plant Vertical Garden Walls, Tambour Units, Floor Plants , Hanging Plants, Green Walls or any of the other many office plant hire options that we have, please send us a message or call us on 1800 631 365.