Is it more beneficial to hire or buy indoor office plants?
We are often asked by clients whether it is better for them to hire indoor office plants or for the client to purchase their own plants and take care of the plant maintenance themselves.
Regardless of whether you hire or purchase office plants, thriving indoor office plants provide a welcoming environment for your clients, visitors and staff.  Healthy plants also clean the indoor office air by absorbing harmful toxins and producing oxygen, promoting overall health benefits for your workplace.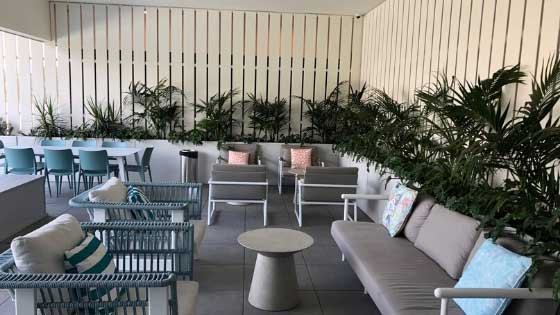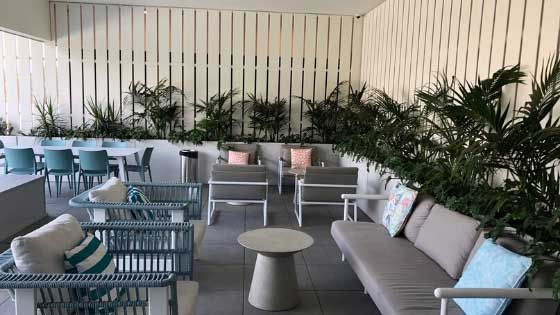 The Benefits of using a Professional Plant Hire Company
There are financial savings associated with professionally maintained plants. See our cost comparison chart below.
Suitable plant species are chosen for the available lighting and space you have available. This ensures plants t h r i v eand not just merely s u r v i v
Replacement of plants is included at no additional charge.
You are guaranteed a high quality range of plants sourced from the finest Australian growers.
Our range of stylish designer pots are sealed to ensure no spills or leaks. This prevents floor damage and safety hazards.
Our service maintenance schedule ensures your office plants are always looking their vibrant best to create an office ambience you can be proud of.
What's involved in owning and maintaining your own plants?
Sourcing and purchase of plants, containers and mulch, ensuring pot is waterproofed and is size appropriate for plant.
Sourcing and purchase of liner pots, horticulture tools including watering cans, secateurs, leaf shine, appropriate pest and disease products, cleaning equipment, etc.
Time involved to research and purchase all necessary items and setting up of new plants.
Purchasing of replacements plants.
Considerable staff time involved to care and maintain the plants and containers. This includes cleaning, watering, pruning, safe pest control, shining of foliage and purchase and changing of replacement plants.
Hiring v Buying Indoor Office Plant Cost Comparison (Over a 2 Year Period)
COST TO PURCHASE INDOOR OFFICE PLANTS
Cost to purchase a 1.5m indoor plant
150.00
Cost for fibreglass waterproofed container
160.00
Sealed liner pot
20.00
Mulch/fertiliser/leaf shine
60.00
Pest & disease control
30.00
Cost to replace plant over 2 years
150.00
Delivery & installation (x 2)
150.00
Total
* $720.00
* not including employee labour time to care & maintain plants & containers
COST TO HIRE AN INDOOR OFFICE PLANT (INCLUDING FULL PLANT MAINTENANCE PROGRAM)
Approximate hire for 1.5m indoor plant
520.00
Cost for fibreglass waterproofed container
0.00
Cost to replace plant over hire period
0.00
Sealed liner pot
0.00
Mulch/fertiliser/leaf shine
0.00
Pest & disease control
0.00
Delivery & installation (x 2)
0.00
Total
$520.00
How much does plant hire cost for an average office?
The cost for professional indoor plant hire will vary depending on the number of plants and the pots and plants selected. On average a small office with a selection of 6-10 assorted plants would cost around $30 per week for plant hire & maintenance. We take quantities and lighting into account during consultation.
Our representative will happily discuss plant and design options to optimise your results and ensure value for money.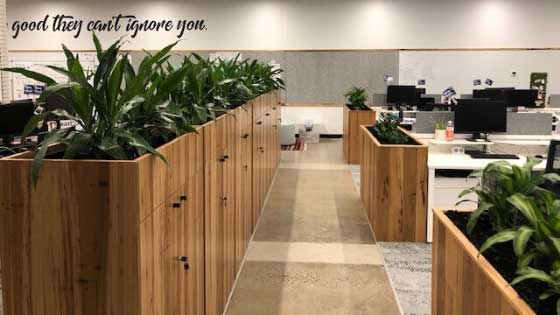 What's included with our professional plant hire service?
Free installation and delivery of plant hire with a quick turnaround time of 24-48 hours, depending on stock availability. We work with you to ensure your plants are serviced and maintained at a time that is convenient to you.
Regular scheduled maintenance program by a qualified plant technician that includes:
watering
cleaning and shining
pest and disease control
fertilizing
pruning
removal of spent foliage
Free plant replacement, as required, to keep your office plants looking their best.
At Tropical Plant Rentals we are well experienced in providing beautiful plant hire to enhance your office and make the process easy for you.  We are specialists in our field for your office plant hire. Contact the best indoor plant hire Company in Australia for hire plants for your office.
With our stylish range of designer pots and the finest quality of indoor hire plants, your workplace will come to life with the addition of office plant hire from Tropical Plant Rentals.
Contact us today for an easy no-obligation consultation for your workplace plant hire needs.