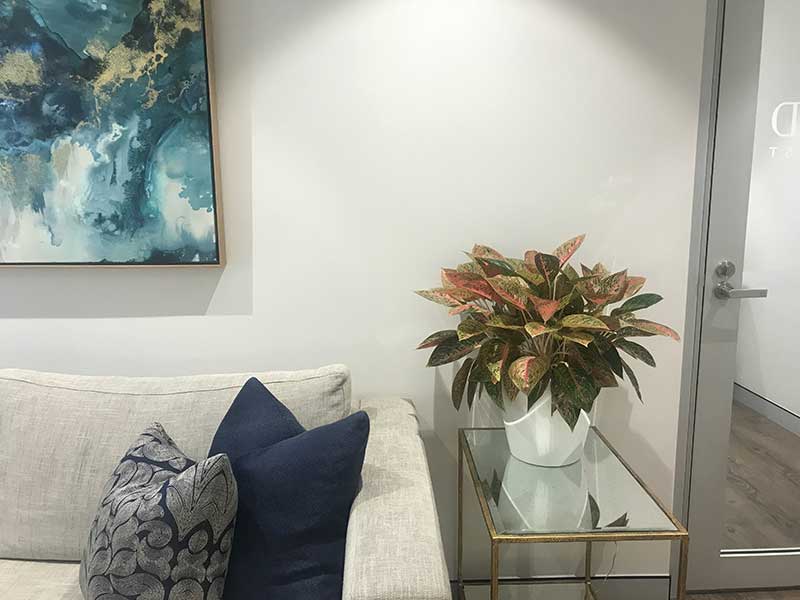 Have you ever thought about your reception areas first impression to your visitors? An office reception is the first port of call for many visitors and potential new clients. The importance of a positive first impression is a very important. First impressions matter and a first impression is a lasting impression.
Having a reception area that provides a professional, friendly and welcoming vibe is important. It helps nurture and influence potential clients to feel connected to your business.
Creating a positive and powerful first impression to your business.
A positive and powerful first impression can draw more business through your front door. It can help to build a good reputation for your business and keep your clients returning.
So how can you help provide a positive and powerful first impression to your business? It can be as simple as adding some fresh, healthy living greenery to your office. It can be surprising what a difference fresh green foliage can make.
Healthy office plants enhance an indoor environment in many ways. They are natural air purifiers. The plant, roots and soil provide oxygen. They help to purify the air of harmful VOC's (Volatile Ogranic Compounds). VOC's are emitted into the indoor air by office furniture, office equipment, carpet and paint.
Indoor office plants visually enhance a reception or foyer area. They add a sense of sophistication. Humans are instinctively drawn to nature. Having indoor plants in your reception area is the perfect way of bringing nature inside. In turn, this will benefit your business.
Indoor plants help your reception or foyer area to look professional, stylish and welcoming.
Statistics show that having well maintained indoor office plants creates harmony and balance. Living plants help improve the mental and physical health of humans.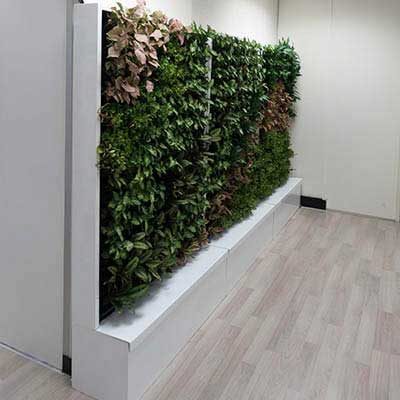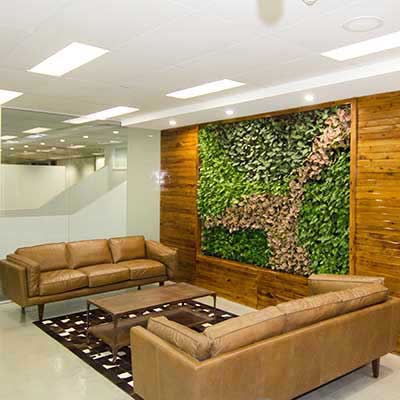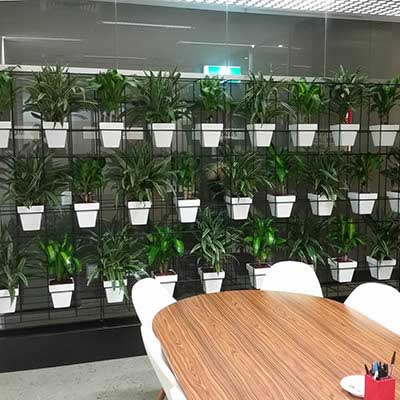 What options are available for indoor office plants?
There are several options available to add some indoor greenery to your reception or foyer area.
Desk Plants
Desk plants are an ideal and simple way to brighten up a reception area and improve the indoor air quality. A touch of foliage on a reception desk can really make a statement.
Hanging Pots
Stylish hanging pots with lush greenery are a favourable option if floor space is minimal. Hanging pots can be hung above a reception desk, in front of a window or perhaps on a wall of your reception area.
Floor Plants
Floor plants can provide the perfect finishing touch to your interior office design. Our many pots come in various shapes and sizes. They can be customised to suit your interior design, whether being a small or large indoor office space.
Troughs
Troughs with attractive green foliage are the perfect solution to add some life to a plain tambour unit. Troughs can also be stand alone to provide a screen or divider in your office or reception areas.
Vertical Gardens
Vertical Gardens are becoming popular with their sustainability in construction designing. Vertical Gardens provide an incredible statement the moment your client steps inside. They provide a warm and welcoming feel and are a growing trend all over the world. Vertical Gardens are a clever way to make the most of minimal space. They are ideal for adding a splash of colour to a dull wall.
Tropical Plant Rentals can provide a range of Vertical Garden designs.
The Pot Plant Vertical Garden is a powder coated steel framework wall. It can be designed and engineered to individual specification. Lush greenery in fibreglass pots are displayed within the framework. The open design is simple and elegant and allows for light to filter through. A Pot Plant Vertical Garden knows how to spice up a dull blank wall in a reception area. It can be used to create a privacy screen or liven up a dull, blank wall.
The Cabinet Wall Green Wall is a fully contained freestanding wall. It features a built in water tank, pump and timer, The unit can be colour matched to suit any interior design. They can be placed alongside each other to achieve a larger Green Wall.
The GSky Versa Green Wall is the "Jewel in the Crown" of Green Walls with a very flexible design feature. It can be customised to fit virtually any interior or exterior space. The designs for these walls can be very detailed, using individual 105mm pot. In 2016, Tropical Plant Rentals installed a living GSky Versa Wall in the Royal Botanic Gardens Sydney. To date this is the largest living GSky Versa Wall in the southern hemisphere. It measures 51 metres long by 6 metres high. Click here to see the amazing creation of this masterpiece.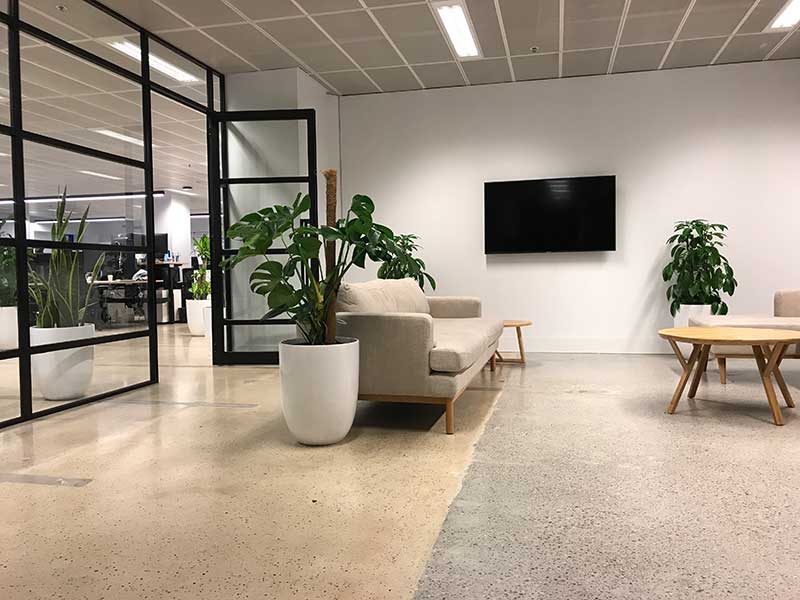 Who can help me with my indoor office plant requirements?
Tropical Plant Rentals is a professional indoor plant hire company. We have a dedicated team of trained staff specialising in the hiring and maintenance of lush and healthy indoor office plants. We consult independently with the client or work collaboratively with interior designers, architects and building companies.
Call 1800 631 365 or email us for an obligation, fuss free consultation, design and quotation.